Freight Train Blues with Larry Bellorín & Joe Troop and La Banda de los Guanajuatenses
Location
Carrboro Town Commons 301 W Main St, Carrboro, North Carolina
Date & Time
June 3, 2022 — June 3, 2022
6:30 pm — 8:30 pm EST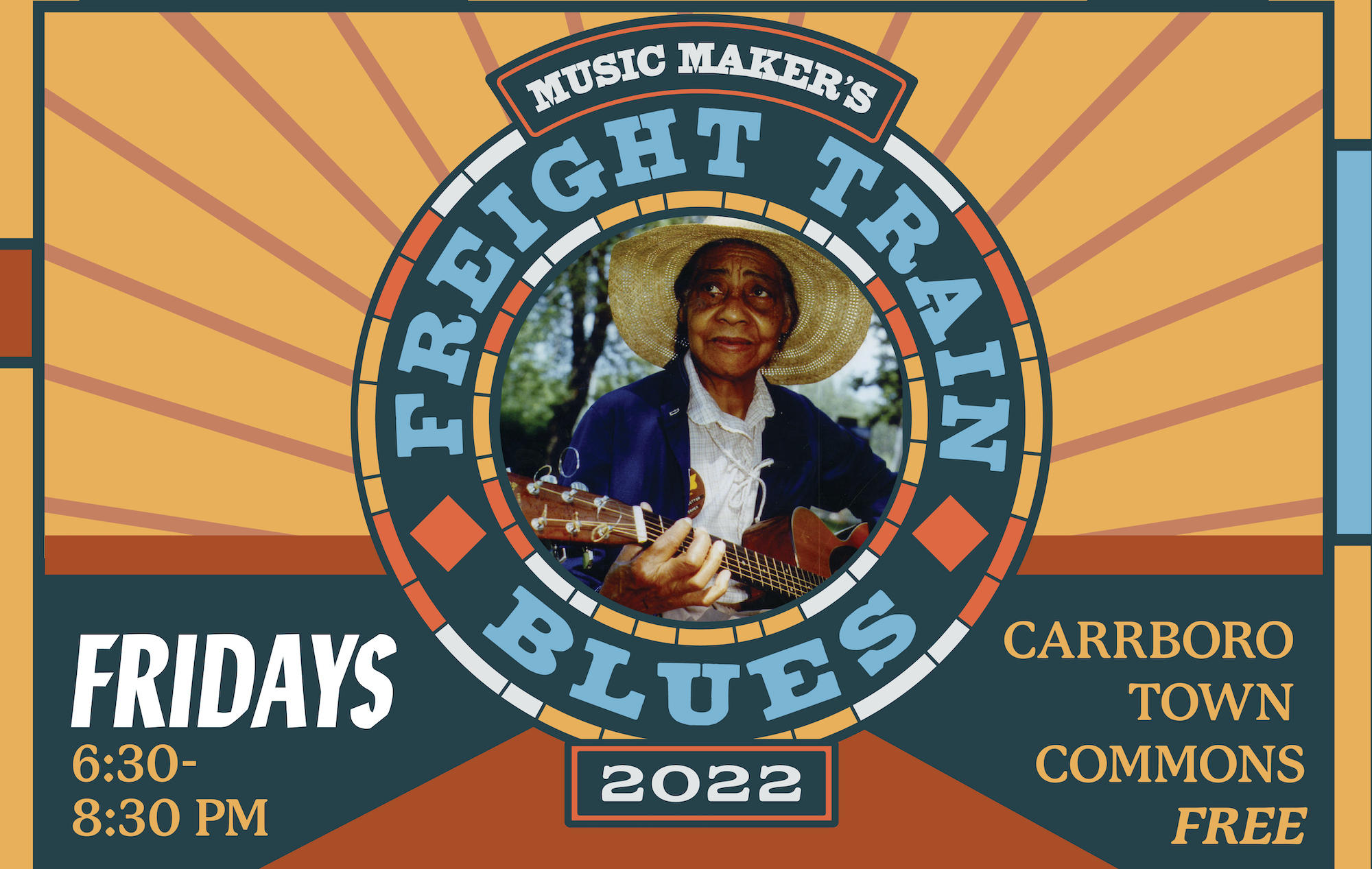 Join us from 6:30-8:30 pm on May 13th – June 10th, 2022 for five Friday evening concerts featuring incredible roots musicians steeped in the diverse traditions of the Carolina Piedmont!
Freight Train Blues celebrates the life and legacy of Piedmont blues legend Elizabeth "Libba" Cotten, born in 1893 in Carrboro, NC. Some of her best known compositions, like the now-standard "Freight Train" and "Shake Sugaree," have been canonized into the repertoires of American popular culture, with the latter interpreted by Bob Dylan and Taj Mahal. Her enduring legacy was featured earlier this year in a piece from Good Morning America, who said she was "a master storyteller."
Freight Train Blues honors Elizabeth Cotten's contributions to American roots music by highlighting the cultural significance, diversity, and vitality of her North Carolina community and its connections to artists across the nation.
Sponsored by Town of Carrboro Cultural Resources, Recreation & Parks Dept., Carrboro Tourism and Development Authority, Music Maker Foundation, WUNC 91.5FM, and The Judy Weinstock Real Estate Team. 
Larry Bellorín & Joe Troop
Larry Bellorín & Joe Troop were destined to make music together. Larry hails from Monagas, Venezuela and is a legend of Llanera music. Joe is from North Carolina and is a GRAMMY-nominated bluegrass and oldtime musician. Larry was forced into exile and is an asylum seeker in North Carolina. Joe, after a decade in South America, got stranded back in his stomping grounds in the pandemic. Larry works construction to make ends meet. Joe's acclaimed "latingrass" band Che Apalache was forced into hiatus, and he shifted into action working with asylum seeking migrants. Currently based in the Triangle of North Carolina, both men are versatile multi-instrumentalists and singer-songwriters on a mission to show that music has no borders. As a duo they perform a fusion of Venezuelan and Appalachian folk music on harp, banjo, cuatro, fiddle, and whatever else they decide to throw in the van. The duo is currently developing their repertoire in advance of a recording project sponsored and facilitated by the celebrated Music Maker Foundation. The program they offer features a distinct blend of their musical inheritances and traditions, as well as storytelling about the ways that music and social movements coalesce. The program can be tailored to fit a barroom gathering, PAC stage, or university lecture hall.
La Banda de los Guanajuatenses
La Banda de Los Guanajuatenses, originates from Guanajuato, Mexico. This group was formed by 13 musicians from a town called San Pedro Tenango in 1999. Their music is heard on Hispanic radio stations throughout North Carolina. With their authentic style, they are a favorite among the many Mexican immigrants that call North Carolina home.