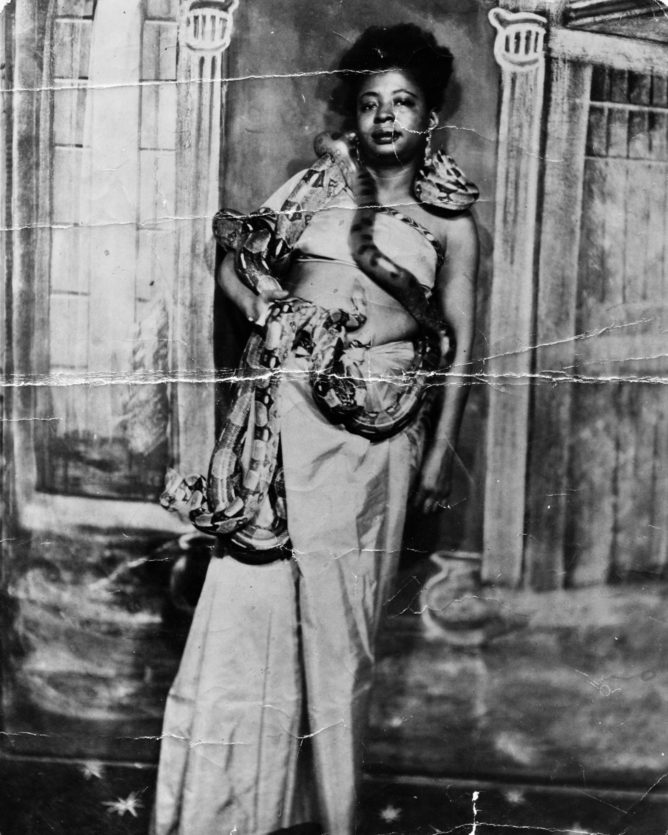 Willa Mae Buckner
Blues
Willa Mae Buckner ran away from home at 12 to join an all-Black traveling tent show. She played the blues and became legendary through her performances with as many as 36 pythons. They called her the "Snake Lady."
"Snake Lady" Willa Mae Buckner Was a Most Original Performer
Willa Mae Buckner performed under many names across her lengthy career: the Wild Enchantress, Princess Ejo, the World's Only Black Gypsy, and, most often, the Snake Lady.
She was truly one of the most original performers the South ever produced. Willa Mae ran away from her home in Augusta, Georgia, when she was just 12 years old to join an all-Black tent show. In the tent shows, she enthralled the crowds in just about any form imaginable—as a blues singer, burlesque stripper, contortionist, sword swallower, and, of course, with her snake shows. Willa Mae would tour with as many as 36 pythons.
"They liked my daddy's home brew, but they favored my

mama's moonshine."
Willa Mae Buckner
But mostly, Willa Mae was uncommon because she defied society's expectations of female performers in the early and middle 20th century. She was an articulate, self-educated, and fiercely independent woman who blazed her own trail from the day she ran away from home. Her frank wit and exotic past always set the tone when she sang her risqué songs, like "Yo-Yo."
Baby, let me play with your yo-yo
I'll let you play with mine
"She was a combination of Granny on 'The Beverly Hillbillies' and some seriously crazy Black burlesque queen from back in the day," says blues legend Taj Mahal. "Willa Mae was as real as it's going to get in this century, or in the next."
Willa Mae was one of the Music Maker Foundation's first partner artists, and one of the first recipients of aid from us. But we're probably proudest of the gigs we helped her get late in her life, including one memorable performance at New York City's Carnegie Hall. Willa Mae had dreamed of playing the legendary hall for many years, beginning with when she moved to New York City for two decades in the middle of her life. And she'd been living back home in the South for another two decades before the invitation finally came.
When she finally stepped onto the Carnegie Hall stage, she told the crowd she had worked for 40 years to play a show there. She delighted the crowd with a few of her risque songs and walked off to a standing ovation.
Willa Mae Buckner was born on June 16, 1922. She died January 8, 2000.
Top photo courtesy of the Music Maker archive.