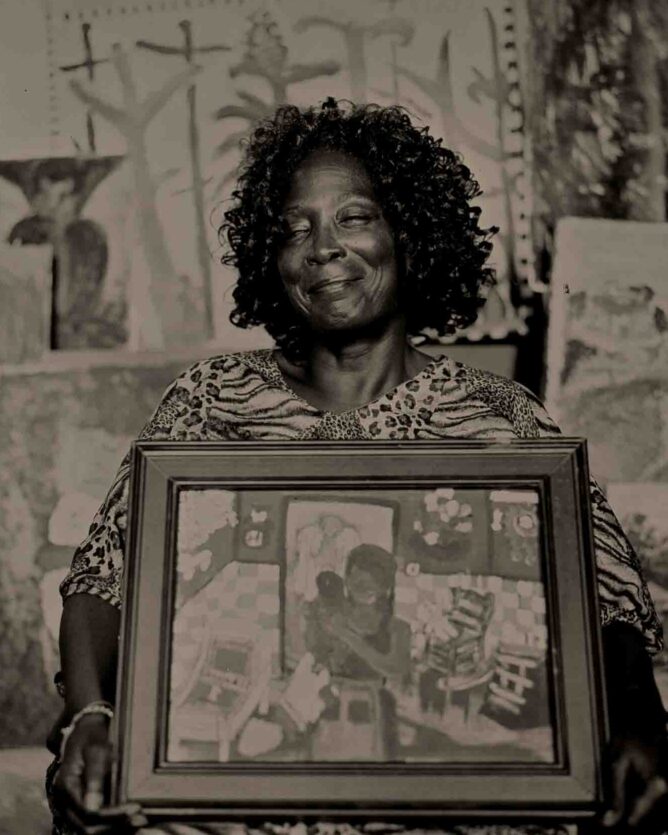 Elnora Spencer
Blues
Elnora Spencer is a modern renaissance woman. The Birmingham-based musician is a talented vocalist, songwriter, painter and trailblazer for women in the blues scene.
Singing is as easy as breathing for Elnora Spencer. Born north of Birmingham in Adamsville, AL, Elnora was raised with music all around her. Her adopted mother was a member of a popular traveling gospel group in the 1950s, and her musicality rubbed right off on her daughter.
Born with an eye condition that kept her off the playground as a child, Elnora made up songs to keep her company. "I'd be standing on [the] side of the building, just singing, making up songs. And the kids started coming and hanging with me when I was singing. They'd be dancing along," she recalls with a laugh. "Next thing I know, I was singing at funerals when I was seven years old."
Spencer's talent preceeded her in school, too. She tells a story of herself as a demure eighth-grader performing for a few of her friends in class while the teacher was out.
"I was singing with my back to the door, when all of a sudden I hear, 'Miss Elnora Spencer, you come here right now.' It was my teacher. I thought I was in big trouble. He said, 'I want you to take this note to Ms. Parker right now.'
"So I said, 'Yes, sir' and I took the note down to the choir room. The band director was there and the whole big senior choir and me, this little kid. And the director stopped the music. I told her that my teacher sent me down and told me to hand her his note. I gave her the note and she read it. And then she looked at me and she said, 'This note says he wants me to listen to you sing'.
"She started playing 'Don't Play that Song' by Aretha Franklin on piano, and asked me if I knew it. I told her I did and started singing. All of a sudden, the whole choir joined in, it scared the heck outta me," she chuckles. "Before I knew it, I was leading the senior choir and competing in state championships."
After graduating, she continued to sing R&B, blues, soul and gospel in a variety of bands. Dissatisfied by unfair treatment for women that left her shortchanged, she formed her own band. "I started off down in Huntsville. I was opening for Bobby Blue Bland and next thing I know my band was on the road for 10 years and we were playing five and six nights a week. We made plenty of money and then I ended up with 14 people in my band. And I was the head and I was the driver," says Spencer.
Soon, Elnora gained her status as one of Alabama's and the South's leading ladies of the blues. She has opened for and worked with a variety of artists including Johnny Taylor, Bobby Womack, Koko Taylor, Tyrone Davis, Millie Jackson, Shirley Brown, Denise LaSalle and Percy Sledge.
Elnora was the first woman to receive the Lifetime Achievement Award on behalf of the Birmingham Blues Hall of Fame. The award was presented to her by other women in the music scene, as a recognition for Spencer's work changing the game in a male-dominated industry.
"I started out during the days when the guys didn't treat women equally. They felt like a woman had her place. But I didn't take no mess. I went toe-to-toe with the club owners, with the band members. I always stood up for myself."
Elnora is also a folk artist and painter, and Music Maker has worked with her to supply her with painting materials so she can further her visual art career. As is true for her career in music, her style is completely unique. "I've never tried to be like nobody else," Spencer shares.
Spencer was working three jobs to stay afloat when she suffered a heart attack and was told she needed to have a defibrillator implant surgery. "Of course I was scared. I was thinking I was going to die," Spencer discloses. After her surgery, Music Maker hired in-home care for Elnora as she recovered. "I'm always stubborn. I want to do everything myself," Elnora laughs. "And the lady told me, she said, 'Miss Stubborn, we here to help you!"
As she recovered, Elnora informed us that she did not have a car to get to work or gigs, so we provided some funds for her to purchase one. "It's working really well! I like my little red car, I always wanted a red car," she conveys. "I feel like I fell in a well and they pulled me out from really being without anything. I don't get out as much as I used to–and my being sick, it took a toll on my finances. So it means a lot. And I pray and ask God to bless them for doing what they do for me."