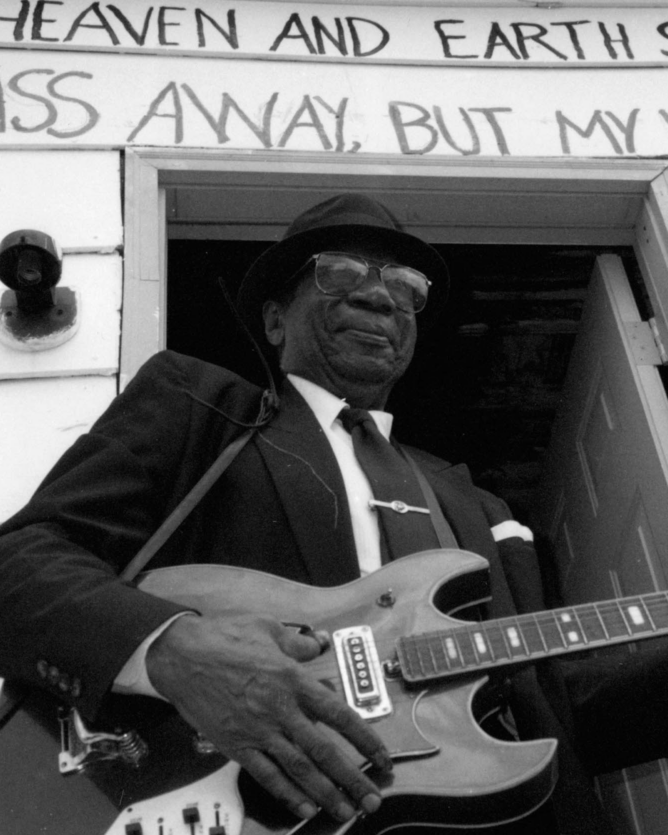 Elder Anderson Johnson
Sacred
Boy preacher, "outsider" artist, teetotaler, and sacred steel devotionalist, Elder Anderson Johnson devoted his life to communing with the spirit.
I spoke my sober mind / I won't take back a word I said
Elder Anderson Johnson spent his career preaching and playing steel guitar on the streets of America. His 1958 single, "God Don't Like It," was a local hit for Henry Stone in Miami, Florida. After its release, Johnson recorded a few more sides for the Angel, Glory, and Deluxe labels, before relocating to Newport News, Virginia. Here he built his church and began painting seriously, becoming a respected vernacular visual artist. His paintings recurrently featured women's faces. To stunning effect, Johnson adorned the walls of his church with hand-painted figures and Bible-verses. And when it came to music, Johnson was never satisfied sticking to a single instrument: in addition to steel guitar and singing, he was also a talented pianist and drummer.
Elder Johnson recorded an album in 1994 entitled Roots of Sacred Steel with Axel Küstner, Eleanor Ellis, and MMF's Tim Duffy. The record's powerful spirituals and gospel are interspersed with compelling stories from Johnson's life and adventures. He recounts his beginnings preaching at 8 years old, shining shoes to pay for his first guitar, the teetotaling practices which led to "God Don't Like It," and how he centered Hebrews 12:14 in his life: "To follow peace with all men and holiness without which no man can see the Lord. This is what I base my faith on. I never tried to build churches, I try to build my faith. That is what has gotten me through. I have never been in trouble in my life, because my faith has kept me going."
To follow peace with all men and holiness without which no man can see the Lord. This is what I base my

faith on.
Elder Anderson Johnson
In addition to recording, releasing and promoting Johnson's work, Music Maker Foundation helped the man out financially when times were tough. In 1996, MMF first began providing Johnson with a monthly prescription medicine stipend, and subsequently assisted with repairs on the roof of his home. A devout believer, he served the dictates of his faith until the end.
Elder Anderson Johnson was born August 1st, 1915, and died May 4th, 1998.
Photos above by Tim Duffy.