Two Studios, Two Fertile Fields for American Roots Music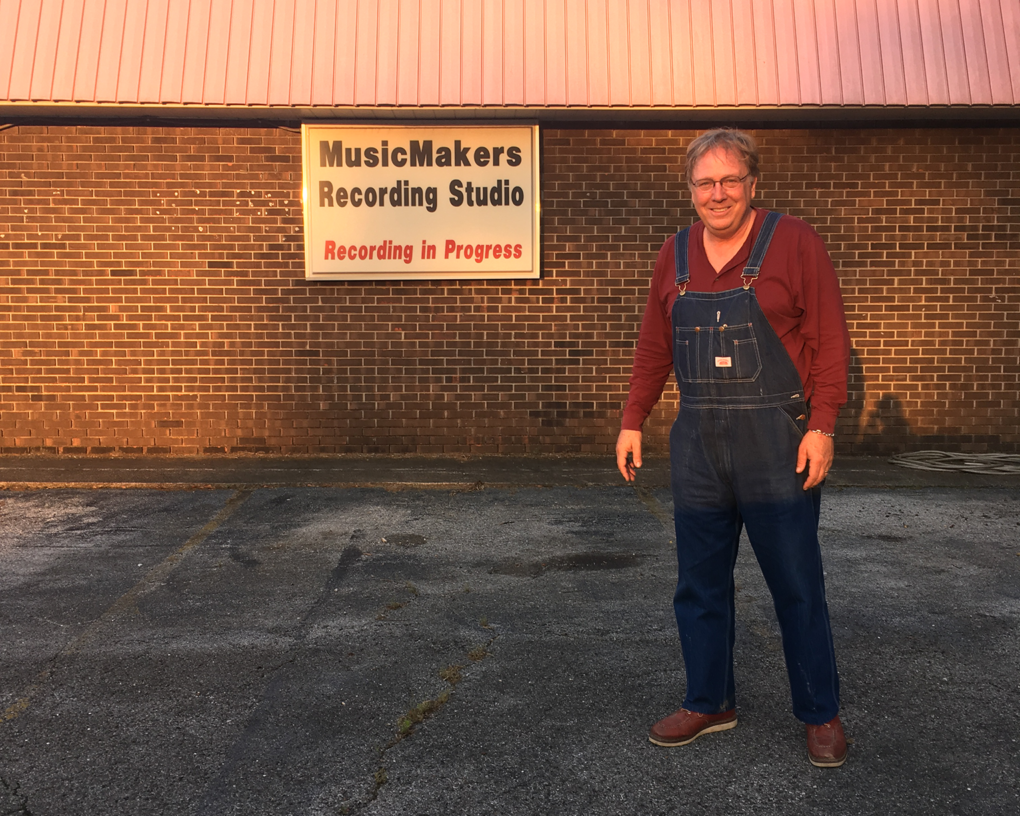 Music Maker co-founder Tim Duffy outside Music Makers Recording Studio in Birmingham, Alabama. Photo by Gabi Mendick.
By Tim Duffy
Almost all the musicians who become part of the Music Maker family face various obstacles in getting their work to the public. Sometimes, they live in rural areas far from the big cities that offer regular nightclub gigs and recording facilities. And for many, the obstruction is economic. Just getting the equipment they need and being able to afford a few hours in a recording studio can be out of their reach.
That's why Music Maker has recently taken on two projects aimed at making recording facilities more accessible to our partner artists. We never expected to be in this business, but Music Maker is now in the middle of refurbishing two artist-owned recording studios — one in rural Farmville, North Carolina, and the other in Birmingham, Alabama.
Farmville
Quite a few years ago, our partner artists Johnny Ray Daniels and his wife, Dorothy Vines Daniels, both longtime members of the Glorifying Vines Sisters, bought a building in Farmville, in rural Eastern North Carolina. Johnny Ray and Dorothy's son, Anthony "Amp" Daniels of the Dedicated Men of Zion, recently told me the story. 
"They first used the building for retail," Amp said. "My mother used to do a lot of sewing and stuff like that. Then, I started getting into music, went to Atlanta and worked in a lot of different studios. And when I came back to Farmville, I talked to my mother about the building. She had really stopped sewing a lot, so I converted the building to a rehearsal hall and studio."
Then, sadly, the building caught fire. The catastrophe didn't consume the entire building, but the smoke and water rendered useless all of Amp's recording equipment. Recently, I began talking to Amp about the building. As we talked, I began thinking about Music Maker's project to create a studio where our partner artist Freeman Vines could work. To see all the creativity that has come by providing a space in which an artist can create is just amazing. And then, it becomes a hub. Reporters and people from all over the world now visit Freeman.
Talking to Amp, I asked myself, "Why can't we do the same for all the musicians in that area who've been making gospel music for decades?" I thought if they had a space they could call their own, where they can bring back the old-time gospel music, it would be wonderful. It would also reflect the spirit of Johnny Ray Daniels, who's spent his entire life in old-time gospel and would love nothing better than to have a space where he could encourage mentor a younger generation that's interested in the music of their forefathers and their communities.
"Talking to Amp, I asked myself, 'Why can't we do the same for all the musicians in that area who've been making gospel music for decades?' I thought if they had a space they could call their own, where they can bring back the old-time gospel music, it would be wonderful."
Tim Duffy
We think we can finish the cleanup and reconstruction before the summer is over, and then — with the help of donors like you — we can work with Amp to outfit the space with recording gear again.
At the beginning of last year, we began working to expose the world to this "Sacred Soul" music, and in September, we will release a wonderful new compilation recording — "Sacred Soul of North Carolina." I can't wait to see what will develop when we bring a working recording studio to this rural area that has produced so much amazing music.
Birmingham
Our recent musicological expedition took us through Birmingham, where we met a blues guitarist named Earl Williams. The plan was for us to meet Earl at his "cash cow" — a hair salon. But when we pulled up at the salon, we saw another building with a gigantic neon sign that says, "Music Makers Recording Studio." Earl had just bought the building.
It turns out the studio was built many years ago by the R&B singer Frederick Knight, who recorded for Stax Records in the early 1970s and had a hit single in the U.K. with "I've Been Lonely for So Long." But in the late 1970s, Knight's fortunes turned upward dramatically when he wrote "Ring My Bell," a huge hit by Anita Ward in 1979.
Knight later bought this building in Birmingham and turned it into quite a grand recording studio. It's a real Muscle Shoals-style recording studio with a control room and a front room, a floating floor and acoustically treated walls. It's so large, you could go in there with a full R&B band and eight horns and record. To build such a studio today would be costly indeed.
Now, only a few weeks after we first met Earl Williams, Music Maker is already rounding up the equipment necessary to turn this beautifully constructed room back into a working studio. A generous donor has already pitched in with a 45-foot "snake" cable, which connects all the microphones and amps in the recording room to the control room. Earl is hard at work getting the space cleaned up and in ship-shape. And Music Maker has sent Earl a grant to help start needed repairs.
We can't wait to get Music Makers Recording Studio fully operable again, so we can begin recording artists we discover in Alabama.
The point of both these projects, for us, is to make truly professional recording facilities accessible to the roots-music artists we care for so much. Studios and rehearsal halls become gathering places, where musicians come to get to know each other and play together. From those meetings, new connections form, and new music always springs up. They're like fertile fields where the traditions of American music can take root and yield new fruit. 
We'll keep you posted as we make progress in Farmville and in Birmingham. We can't wait to see what happens next.