This Week, We Release "Beverly 'Guitar' Watkins In Paris," a Smoking Concert Album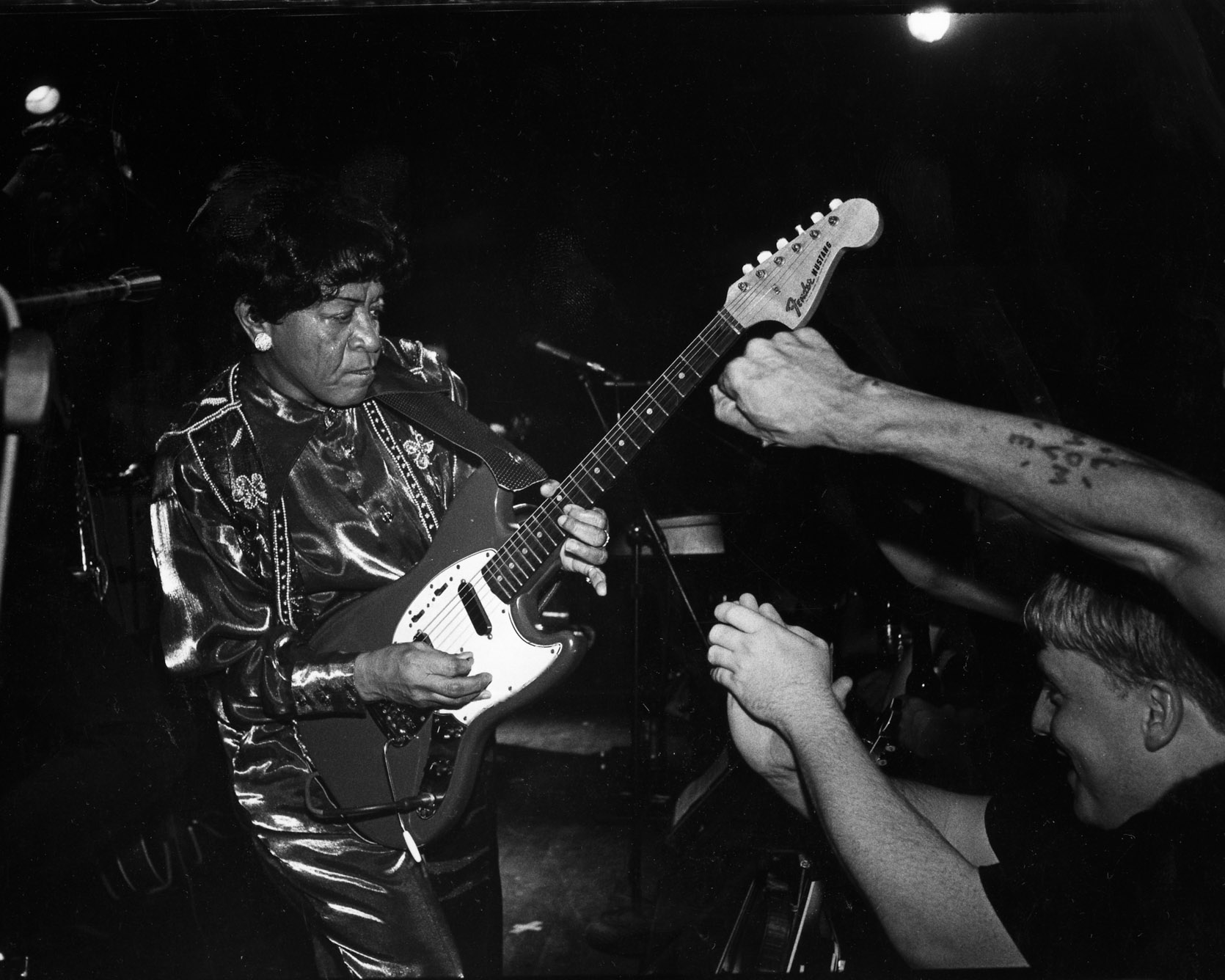 "She is probably the greatest living blues guitarist that no one has ever heard of."
— Oxford American
"One of the greats."
— She Shreds
"Ferocious vocals are matched by even more ferocious guitar playing."
— Glide Mag
"A total bad-ass."
— Guitar Player
"Queen of the Blues Guitar"
Guitar World
"Fiery."
— The New York Times
By Nick Loss-Eaton
In the 1990s, Music Maker co-founder Tim Duffy wandered into Underground Atlanta and was amazed by an outlandish guitarist with chops to back her showmanship, busking for tips. Passersby could not have known that this guitarist, later revealed to be Beverly "Guitar" Watkins, had played with James Brown, B.B. King, and Ray Charles. The Beatles covered Dr. Feelgood & The Interns' recording of "Mr. Moonlight," on which she played guitar.
She quickly joined Music Maker, releasing her debut solo album "Back In Business" at the age of 60. She earned a W.C. Handy Blues Award nomination, opened a 42-date tour for Taj Mahal, and later performed at Lincoln Center.
This week, we will release Watkins' only concert album, "In Paris," on Friday. The New York Times noted that she captivated crowds by "playing her electric guitar on her back and behind her head, sliding across the stage. When she sang, it was often with a growl."
"I'm still feeling the effects, and have some great memories of touring the country and playing onstage

with her."
Taj Mahal
The recording, made in front of a rapturous crowd in 2012, also features Albert White (Elvin Bishop, Clarence Carter, Ben E. King, Ray Charles, Joe Tex) on guitar, Eddie Tigner (leader of the Ink Spots) on organ and piano, and Lil Joe Burton (Tex, Bobby Womack, Otis Clay, B.B. King) on trombone. She pays tribute to Ray Charles here with a rendition of "What'd I Say." Watkins even plays harmonica on one track. Born in 1939, she nicknamed her guitars Sugar Baby and Red Mama, a moniker now borrowed by a deeply felt slow blues song on the album.
Of the album, Atlanta's Creative Loafing said, "Considering the wild, intense, raw power of her shows, it is certainly odd that there haven't been any officially licensed concerts of Watkins' before this. ["In Paris"] does a terrific job capturing the audio of Watkins in full vocal and instrumental bluster."
"This lady is a flat-out musician who can duke it out onstage with the best there is — man, woman, or child prodigy." Mahal said. "I'm still feeling the effects, and have some great memories of touring the country and playing onstage with her."
Duffy said, "Beverly Guitar Watkins off stage appeared to be a proper church lady, but when she took the stage, Beverly transformed, prowling the stage, chasing fiery blues guitar and stirring the crowd up into a frenzy."