Taking a Bite Outta King Biscuit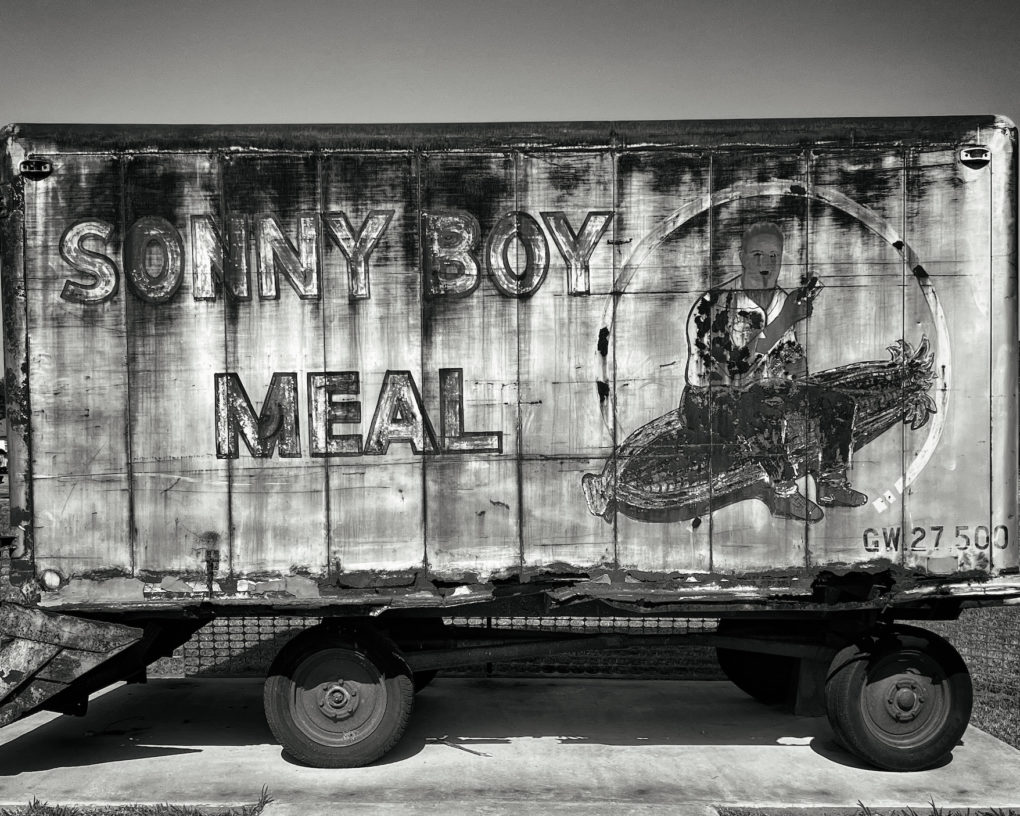 By Tess Stogner
On Monday, October 3rd, I get a call from Denise Duffy, Co-Founder and Managing Director at the Music Maker Foundation. She offers me a full-time position with Music Maker as their Communications Coordinator, and I accept it immediately. "How would you like to start tomorrow?" Denise asks me. "Let's do it," I say. Bright and early Tuesday morning, Gabi Mendick, Music Maker's Program Manager, and I hop in a car to begin our 750-mile journey to Helena, Arkansas for my first day on the job. We're headed for the King Biscuit Blues Festival.
___
I've been enamored with Music Maker since a friend recommended them to me back in March. I was shocked to learn that Music Maker's birthplace was Winston-Salem, North Carolina, my hometown. Their formidable founding artists were unfamiliar to me–Guitar Gabriel, Willa Mae Buckner, Captain Luke, Macavine Hayes, and Whistlin' Britches–all individuals with unique voices, all residents whose contributions to our city's culture and history are overlooked. I was moved by their stories, and started out writing stories and profiles of artists for Music Maker. Since then, I have been lucky enough to be welcomed into the Music Maker community by every musician I have had the privilege of interviewing. 
___
Our first pit stop is the National Museum of African American Music in Nashville, TN. Any time I visit a great museum, I feel something that I haven't found a word for yet. It comes in three parts: First, the overwhelming desire to digest everything in sight. Then, the realization of the limits of my intellect and time, and finally, delight, accepting that I'll never figure this mystery out. I get to just wonder at it.
Behind a glass pane shimmers a golden keyboard resting atop an ironing board. Festooned with foam flower stickers and a rainbow array of plastic gems, Ironing Board Sam's instrument is an homage to the musician's free-spirited creativity. It lights up the display for the rest of its neighboring artifacts: Keb' Mo's guitar, Bobby Bland's suit, and B.B. King's "Lucille" Gibson.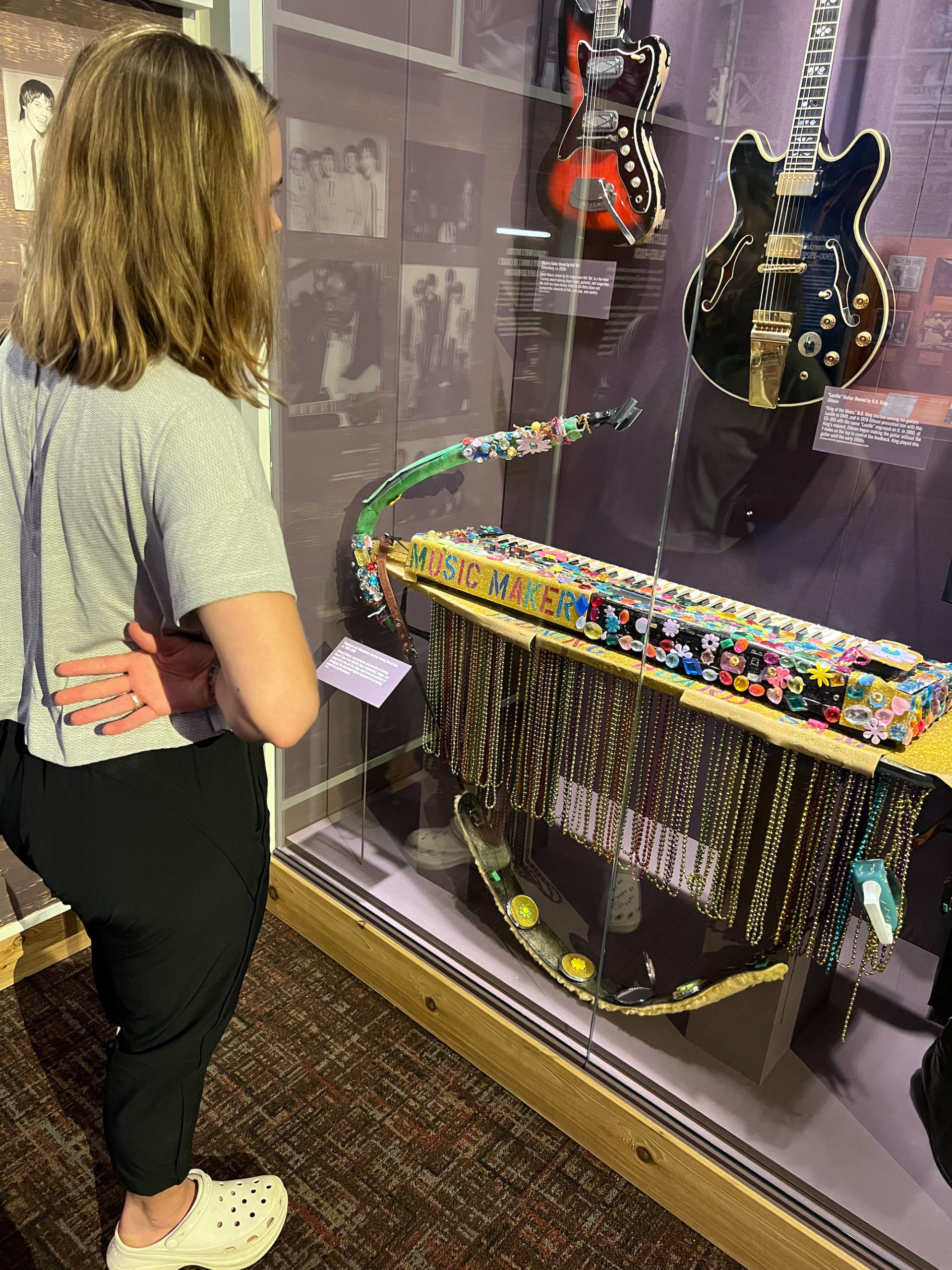 The keyboard was a gift to Sam from Music Maker in 2014. You can watch the unveiling here:
We depart from Nashville in the morning and head for Memphis, TN. Around noon, we reach Looney Ave., home to Big Legal Mess' recording studio, a longstanding partner of Music Maker's. We're greeted by Bruce Watson, the label's president, and Will McCarley, the project manager and drummer, who welcome us inside the historic building. I'm immediately struck by how every wall and nook has some eye-catching poster or trinket, all with their own histories. On one wall I spy a poster of The Klitz, Memphis' first punk band who got their start in the late '70s. The studio itself feels warm and designed with care. Each studio has a sound of its own, Watson tells us, and when he purchased this place, he knew he'd like the sound of it. 
We step into the control room where we meet the guitarist, co-producer, songwriter, and vocalist Will Sexton, sitting on a leather couch with aviators on. Bruce explains they were in the midst of remastering some old recordings, an endless project. He takes us on a tour of the place: we pay homage to Guitar Gabriel's Vox guitar, marvel at Bruce's extensive guitar collection, and decide to head out for lunch. 
When in Memphis, it feels sinful to abstain from barbecue. Our tour guides take us to one of their favorite spots, Cozy Corner. The joint has been around since '77 and has the worn-in charm of a no-frills local favorite. Gabi and I split some pork ribs, chicken wings, and a brisket sandwich, and it is arguably the best barbecue I have ever tasted. Full up, we bid our hosts goodbye and hit the road for Mississippi.
Outside the city limits, the landscape quickly transforms into big skies and cotton fields that stretch to the horizon. In just under two hours, we arrive at the Isle of Capri Casino in Lula, MS, our home for the weekend. The Casino's estate is on the banks of the Mississippi, and Helena is just on the other side. It is the largest building for miles, with a faded pink facade and the outdated opulence of an outlying Disney resort. At night, floodlights over the sparsely occupied football-field-sized parking lot blot out the stars.
The festival kicks off Thursday morning. We cross the Mississippi on a single-track bridge straight out of the 1940s. A sign reads, "Welcome to Arkansas: The Natural State." I notice how low the water levels are and am reminded of the small dust devil I saw across a cotton field the day prior.
Our crew filters in by 10: Music Maker's artist liaison and Music Maker Blues Revue musical director, producer and drummer, Ardie Dean, arrives early, checking every detail with the easeful precision of a seasoned pro. The guitarist Bobcat Jackson is with him, cheery and ready for a good time. Music Maker guitarist and vocalist Leonard "Lowdown" Brown (who recently had a song featured in Disney+) and his girlfriend, Jennifer Weaver are the next to find us. The pair of them are effortlessly cool, and Jennifer has already greeted several friends from past festivals. Then, Music Maker bassist Rob Harris and vocalist and harmonicist Sugar Harp join. Rob pulls out a purple Squier guitar with dice for the pegs and controls, and everyone takes turns admiring it. 
John Price (JP) comes by the Music Maker tent with his friend, bassist Bobby Osborne, to offer us VIP passes and say hi to everyone as the band sets up. We're able to make the pilgrimage to King Biscuit this year thanks to JP, a committed member of our Advisory Board. With Bobby O's arrival, the Music Maker Blues Revue has assembled. 
Our band meshes seamlessly, and the early bird Biscuitheads groove along as they stroll by. Gabi and I strike up conversations with curious spectators, giving Music Maker's elevator pitch and selling merchandise. Everyone here smiles and waves as if they're already a friend. Jennifer has set us up with her friends to volunteer at the table so we can take shifts. In the best way, time passes quickly: I've got a front row seat to excellent entertainment, it's a beautiful, warm day filled with great conversations with new acquaintances. My third day on the job–and none of it feels like work.
My King Biscuit days roll by in this rhythm. I gain immense respect for the Music Maker Blues Revue; despite the long, hot days, everyone is in great spirits and at the top of their game. Sugar captivates crowd after crowd with his singular style and sense of humor, Lowdown's voice remains as dulcet as ever by Saturday afternoon. There's a rotating cast of characters in the band: Willie Farmer plays a set before he takes the main stage, our friend Gordon Wangers has several harmonica battles with Sugar, Music Maker Next Generation artist Rachel Ammons brings out her fiddle, and a saxophonist, a flutist, and an assortment of guitarists all join in on the fun. I also have the pleasure of meeting Lil' Jimmy Reed, the first artist I interviewed for Music Maker. He is twice as charming in person, and patiently greets every eager admirer after his show.
During my breaks, I explore the sights and sounds of Helena, AR. Cherry Street, Helena's downtown strip, is an array of charming western false front buildings, many in a state of disrepair. It's a refreshing scenery: so many American cities feel sterile and mass-produced to me, and in Helena, there's a sense that the give and take of time is respected. Storefront facades with blue sky behind their empty windows, a mid-century movie theater with a marquee that reads in red letters: "SON IT ORKSHO" (left to passerby to puzzle out). Some gutted buildings have been painted with vibrant graphics and transformed into stages for the festival. This southern city has a unique history it wears proudly for its festival-goers.
There are plenty of adventurous foods to try: Rob convinces Gabi and I to have some Kool-Aid pickles from Rosie's Soul Food stand. I try a green apple and we agree it's reminiscent of a jello shot. Most meals are meat-oriented and I feel disproportionately grateful when JP brings by some apples and clementines.
The locals I meet are unpretentious and hospitable. Of the business owners I speak with, several tell me they have plans of leaving. One woman is packing up a shoe store that's been open since 1912. Another restaurant owner tells me that after 13 years, he intends to close up in Helena and focus on his bar that's a couple hours down the road. Folks have different takes on what has led to Helena's quietus: the expansion of John Deere in the fifties and sixties, Mohawk Tires closing their West Helena plant in '79, the COVID-19 pandemic.
Before we head out Saturday night, I sneak into the old movie theater for the gospel show. When I step inside, the energy is electric. The audience is on their feet, clapping and singing along as two young men who can't be older than 16 do a rapid call-and-response. Grandmas and children and grown men dance together in front of the stage. This is the essence of King Biscuit. Talent and character everywhere you look, as blues riffs and buskers wail out all over Cherry Street.