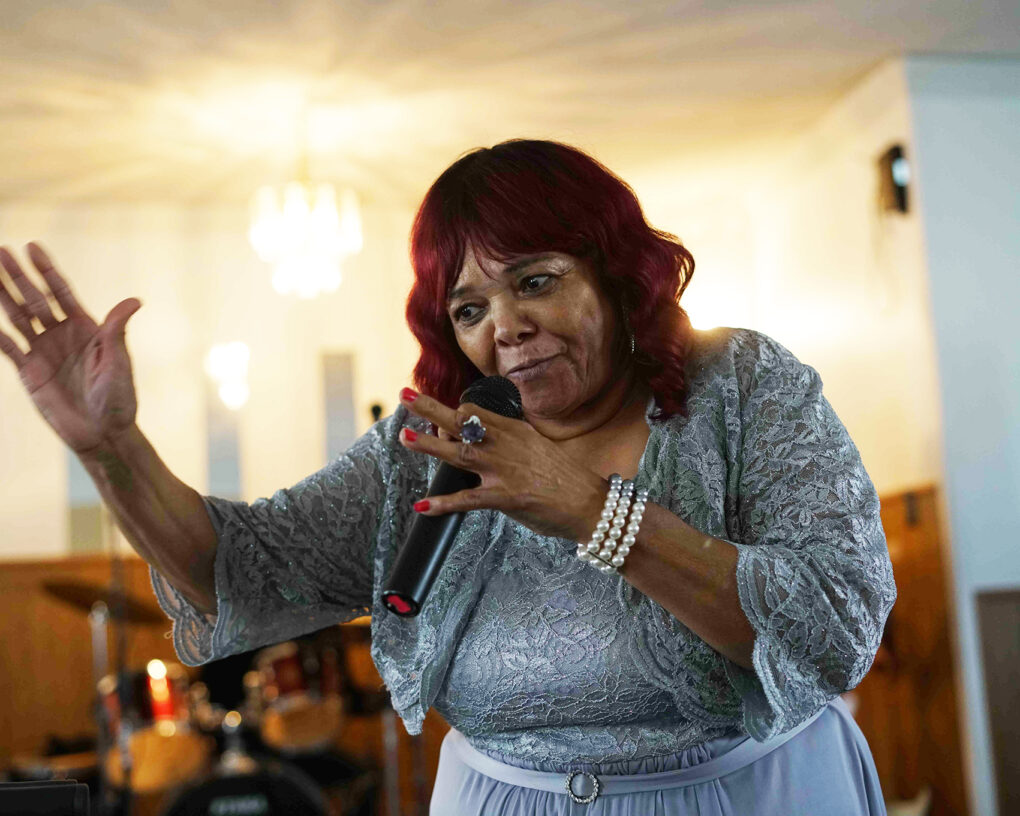 Alice Vines in action at Believe in Christ Ministries, December 2019. Photo by Timothy Duffy.
By Max Brzezinski
The summer of 2023 in North Carolina has been too hot, too humid, too everything – transcendent East Carolina gospel singer Alice Vines can tell you from personal experience. Performing as the Glorifying Vines Sisters, Ms. Vines has been on the road (off-and-on) playing gospel music since 1958. But one day not long ago, the summer sun proved too much for even a veteran traveling musician like Alice Vines.
Last month, Ms. Vines was taking her brother, the visionary luthier Freeman Vines, to one of his regular cancer treatments when her car's motor began to fail:
"So that day I took my brother and it [the car's engine] ran hot, ran hot. So I prayed all the way there and all the way back because I'm a senior citizen and my brother is, too. And it was so bad that day. I didn't know what I was going to do."
Alice and Freeman eventually made it back home that day – overheated, exhausted, and in desperate need of dependable transportation. At this point, Tim and Denise Duffy of Music Maker Foundation stepped in and secured a new car for Ms. Vines so she (and her loved ones), as Ms. Vines puts it, "wouldn't be stranded down that road." A 2015 SUV, not only does Vines' new vehicle make for cooler and more peaceful rides to and from the cancer center; the disability-accessible car also allows for her brother's wheelchair to go in and out of the back when needed. And while the SUV hasn't been used for touring or shows yet, Ms. Vines says she's also excited to take "this ride" to performances soon.
When Vines's work with Music Maker comes up, her enthusiasm infuses everything. On the subject of the general mission of MMF, she prizes both the constancy and broad reach of their aid:  "They tell you they are going to do something, they'll do it. Not only do they help me, they help anybody in need." Equally, you can hear in her voice the affection for the hospitality of the team at MMF: "Everybody's so nice that they make you feel like you're home. They invite you, they treat you just like your family."
"So I prayed all the way there and all the way back because I'm a senior citizen and my brother is, too. And it was so bad that day. I didn't know what I was going

to do."
Until she gets back out on the road in her new SUV, you can hear Alice Vines accompanying her sisters with delicate vocal fire on three recordings on Music Maker Foundation compilations: "Jesus is King," (Blue Christmas: Listener's Circle Vol. 38), "Tell It All To Jesus," (Sacred Soul of North Carolina), and "Get Ready" (Hanging Tree Guitars). You also shouldn't miss her take on more modern soul and boogie-inflected gospel, the six-track 2021 solo set Don't Forget to Pray.
On "Get Ready," we hear Alice and her sisters sing of being "called up in the midair in that sweet bye-and-bye": in that musical moment, the inexpressible becomes expressible. Listeners can imagine the reality of such heavenly transportation. But until that moment arrives, we still need cars to take us from place to place – even the divinely gifted Ms. Vines is no exception.
Your support makes it possible for us to give back to artists like the legendary Alice Vines, whose music and work contribute so much to our cultural heritage. Please consider making a donation to our Sustenance Program today so that we can continue this work. Thank you.