Music Maker Is on the Road Again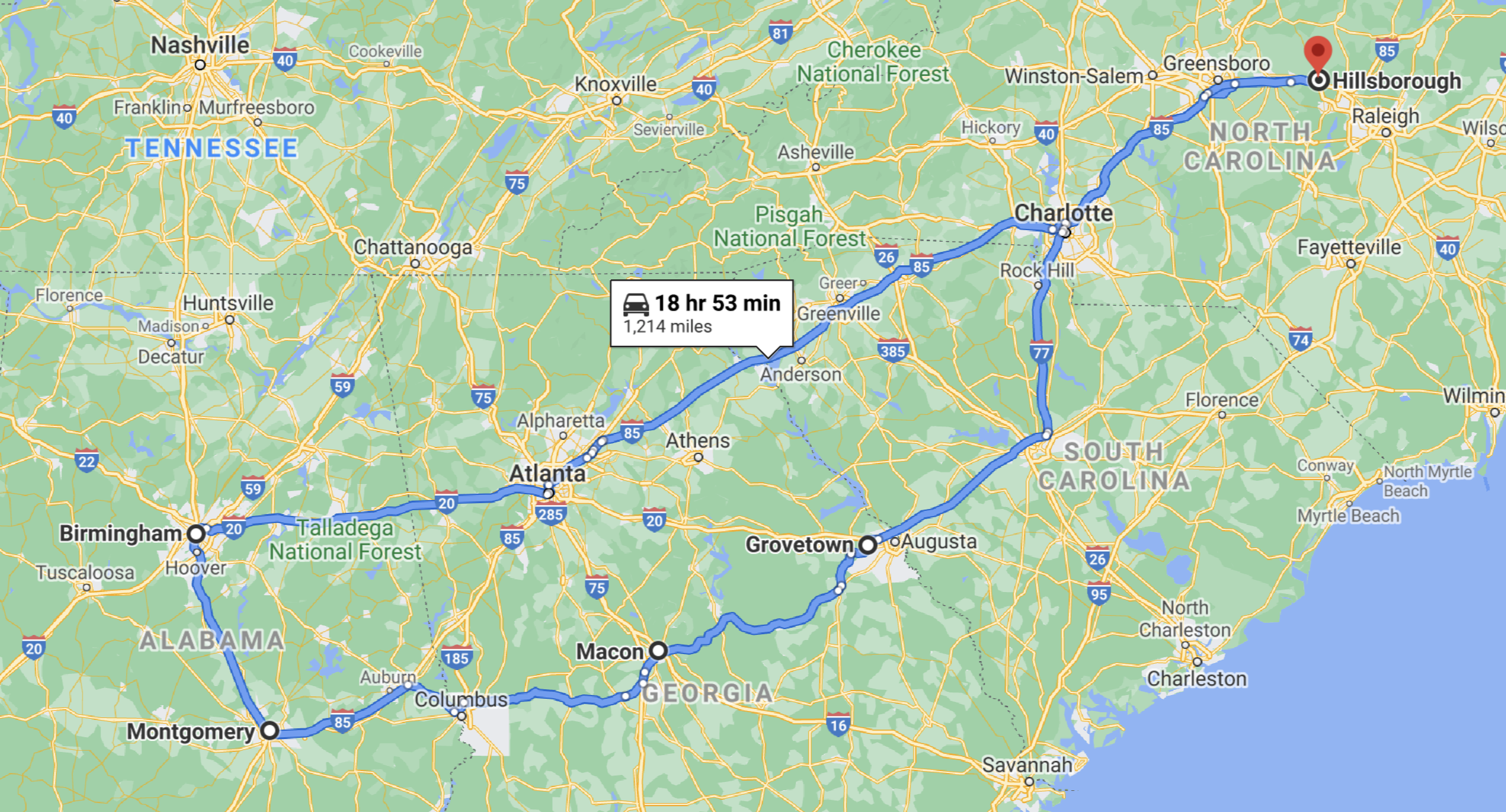 By Gabi Mendick
Until the pandemic of 2020, field trips, road trips and tours have always been an essential part of the framework of Music Maker. Our partner artists are musical treasures, but they aren't always the most Googleable. And so, if you want to discover their music, you have to go to them. In the '90s, in the tradition of ethnomusicological fieldwork and having a good time, Music Maker founders Tim and Denise Duffy began visiting small towns and big cities, following the music up and down and across the country. The Music Maker family that spans from Eastern North Carolina to South Dakota was built in person and on the road.
But over the past year and a half, we haven't been able to grow our extended family of artists, and we've had to keep in touch with the family we have through phone calls and postcards. That was, until mid-May, when at long last Tim and I were fully vaccinated and we hit the road. Having only started working at Music Maker this past January, I was excited to meet some artists whom I've read about, spoken to on the phone, and whose music I love. We eagerly ditched our desktops and went off to see old friends of Music Maker and meet a few new ones. And we somehow crammed what felt like a year's worth of activity, excitement, and music discovery into three long days.
Tuesday, May 11
5:30 a.m.
Wondering what I got myself into, Tim and I pulled out of Music Maker headquarters in Hillsborough, North Carolina, long before sunrise and headed south. We had a very loose itinerary in mind — no hotels booked or appointments made — but drove toward Georgia with plans to end up in Birmingham, Alabama.
8:30 a.m.
Just as I was getting antsy in the shotgun seat, Montgomery-based bluesman Lee Gee, aka Little Lee, rang us up and chatted our ears off, entertaining us for over an hour sharing his story, from his days in Chicago when you could get a whole chicken for 69 cents to his "retirement" in Montgomery in the late '90s when he put an ad in the paper to form a blues band. We made plans to meet him at his house the next morning.
10:30 a.m.
Just past Augusta, Georgia, we reached Grovetown to meet Fred Thomas, best known as James Brown's bass player for over 30 years. Tim describes his first impression of Fred: "He's skinny as a rail but his eyes are like 500-watt light bulbs." There's no question that Fred is talented (did I mention he played with James Brown for over 30 years?), but sitting and chatting, we learned that Fred is also so sweet. He shared stories of being on the road and flying in private jets with James Brown, and didn't hold back on telling the good or the bad.
3 p.m.
In the afternoon, we arrived at another one of James Brown's band member's homes in Macon, Georgia. Robert Lee Coleman played guitar in Brown's band for about seven years, starting in 1970. Robert and Fred shared time in Brown's band, so we swapped their phone numbers so that the two could reconnect and reminisce. When we met up with Robert to say a quick hello, he was just as Fred had remembered him hours earlier, "always chewing on a cigarette." Meeting two James Brown sidemen in one day: just another ordinary day in the life of Music Maker! I can't wait to see the two reunited on stage at the Telluride Blues & Brews Festival this September.
6 p.m.
We made it to Montgomery, Alabama, and drove straight to see the dynamic performer and longtime Music Maker partner artist Ironing Board Sam, stopping by unannounced. While we visited, Tim Facetimed all of Sam's old pals from when he lived in Hillsborough. Every one of them picked up and was equally excited: Ironing Board Sam is widely loved. I'm sure I can speak for all of us when I say that Sam's smile and laugh made our day. He shared so much wisdom about growing old, but even I, at 25, can learn a lot from the way that Sam makes the most of every moment.
Wednesday, May 12
9 a.m.
We started the morning at the Memorial for Peace and Justice in Montgomery. The Equal Justice Initiative to honor the 4,400 African Americans who were lynched in the U.S. between 1877 and 1950 created the memorial in 2018. The sculptures and the setting are striking. They capture the scale of these horrific injustices, while honoring each individual by name. Walking through the memorial, we found the column representing Edgecomb County, North Carolina, with the name of Oliver Moore engraved on it. That event inspired Freeman Vines' "Hanging Tree Guitars" project and the ensuing book and exhibition.
10 a.m.
Sitting in Little Lee's living room, we listened to his CD and watched a DVD of him performing. He is a true bluesman. When Tim asked if he could take Little Lee's picture, Lee said, "I already have a picture." But Tim convinced him that another wouldn't hurt, and took a few shots of Little Lee, who as always was clad in a cowboy hat.
11:30 a.m.
From Little Lee's, we headed off for Birmingham to meet a slew of unfamiliar artists. We knew nothing but their monikers: Earl "Guitar" Williams and Sugar Harp. I had no expectations whatsoever —  the best way to head into a new experience.
2 p.m.
When we pulled up to a brick building with a sign that read "Music Makers Recording Studio," I wondered if the past two days had been a dream. But no, it was just a very happy coincidence that adjacent to his beauty salon, musician and hair stylist Earl Williams has a professional recording studio called Music Makers. But it was into the salon we headed, not the studio, to set up and record a few songs. We were set for an exciting afternoon, with drummer Ardie Dean set to do the recording, and Roger Stephenson, the journalist, photographer, and booker who brought together this stellar crew.