Beyond the Music: How Music Maker Partners with Artists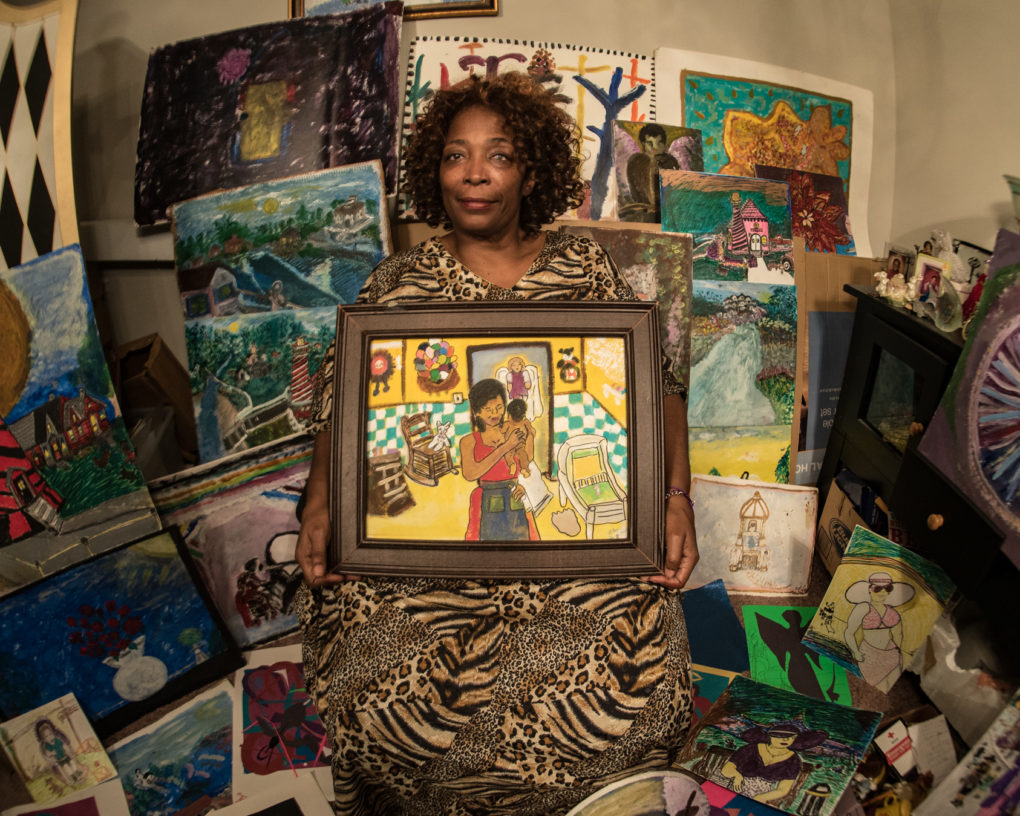 Musician and Artist Elnora Spencer with her paintings. Photo by Tim Duffy.
By Tess Stogner.
Alice Vines has been singing and performing for over half a century. She and Dorothy Vines Daniels, Audrey Vines, and Mattie Vines Harper comprise the gospel quartet, The Glorifying Vines Sisters. Their family lives in Farmville, a small town in eastern North Carolina. "We are born-again Christians, we love Jesus and we love people," says Alice, the Senior Pastor at Believe In Jesus Ministries, a church with a history over 100 years old. "She is a matriarch in a large family, and a pillar of her community," shares Brittany Anderson, MSW, Music Maker's Artist Services Coordinator.  
When we spoke to Alice during our annual survey for partner artists in November 2021, we learned that her home was in urgent need of repairs. Winter was fast approaching, and Alice's home did not have heat. She told us that she had electric baseboard heat in her home, but due to water damage in the walls, it was not working. The source of these issues was a roof so worn-out that water was getting into her home. In addition to this, she did not have a working stove.
Within a week, Alice had a new roof, a new stove, and heat in her home."I got to dancing out there in front of the yard when they put the roof over this house," Alice laughs. By Thanksgiving, it was a warm, dry house with a turkey in the oven.
We were able to accomplish this through our Sustenance Program, which ensures the day-to-day needs of artists who are in crisis or living in chronic poverty are met. Nearly 90 percent of our artists are people of color with an annual income of less than $18,000. Brittany Anderson connects musicians with vital services such as home health care post-hospitalization, and assists with applications for programs such as Medicaid or subsidized housing. 
At Music Maker, we cultivate cultural equity by providing long-term, holistic support to musicians and their communities. "The artists that we serve are not looking for what some people might call a handout," explains Anderson. "The relationships we build are partnerships. They understand that we are there to help them and support them, and it is a two-way relationship."
The support we provide extends beyond the artists themselves to their communities. Believe In Jesus Ministries is a gathering point for the residents of Farmville. The Glorifying Vines Sisters foster relationships by hosting gospel performances from neighboring churches and visiting nearby churches as well. Each year, Believe In Jesus puts on a fantastic Christmas program for the entire congregation. As Believe In Jesus has been home to over a century of Sunday worshippers, the building was showing signs of age. Music Maker was able to replace the carpet in their church, as well as provide new sound equipment for them.
"I've never met people like that, that reach to not only me but to the community, to help others too. They don't have no special people, and they show love to everybody," relays Alice. "It means the whole world, I tell people about the Music Maker Foundation, they are my family. I just constantly ask God to bless them. You know, people don't reach out to older people no more, but that's who they help."
The consequences of the COVID-19 pandemic continue to reshape our community and culture fundamentally. For musicians, their source of livelihood is now a maze of logistics and constant risk assessment. What is the contingency plan if someone tests positive before a gig?  Should concertgoers be asked to mask? How will that affect revenue? 
All of these impossible calculations are stressors for even the most intrepid artists. At Music Maker, the majority of our artists are over 55 years old, and due to age, are more vulnerable to the disease. When it comes to senior musicians, "something like the pandemic that's disruptive for two or three years, if you are in your seventies, those two or three years may have been your last viable years to perform and travel," explains Denise Duffy, Cofounder and Managing Director at Music Maker. Funds distributed through our Sustenance Program are a vital supplementation to this lost income from the pandemic years. In the year ending June 30, 2021, Music Maker made 1,020 grants to 125 artists totaling $233,888. 
How do we accomplish this? We communicate consistently with artists, whether to say hello or follow up on something they shared with us the last time we spoke. When we know certain artists are experiencing difficult times, Brittany speaks with them at least once a week and stays updated on their needs. "Outside of that," Anderson adds, "I share a monthly newsletter [sent only to artists] where I cover different topics that are relevant to our community and have my contact information listed throughout it."
"As an African-American woman, being able to connect with elderly African-Americans that have had such an influence in the industry means so much to me," expresses Anderson. "Everything goes around because of music. When we're having a good day, we play music. When we're having a bad day, we play music. Happy times and sad times, that music is there. Knowing these artists have had such a mark on our history and society and being able to serve them is a big deal to me."
"It's easy for us to place people into silos. But if you take a step back, if that artist is having health problems and can't go to the doctor, or has an abscessed tooth and can't get to the dentist, or is unable to put food on the table, they're not going to be able

to perform."
Brittany Anderson
The Birmingham-based vocalist and painter, Elnora Spencer, was working three jobs to stay afloat when she suffered a heart attack and was told she needed to have a defibrillator implant surgery. "Of course I was scared. I was thinking I was going to die," Spencer discloses. After her surgery, Music Maker hired in-home care for Elnora as she recovered. "I'm always stubborn. I want to do everything myself," Elnora laughs. "And the lady told me, she said, 'Miss Stubborn, we here to help you!"
As she recovered, Elnora informed us that she did not have a car to get to work or gigs, so we provided some funds for her to purchase one. "It's working really well! I like my little red car, I always wanted a red car," she conveys. "I feel like I fell in a well and they pulled me out from really being without anything. I don't get out as much as I used to–and my being sick, it took a toll on my finances. So it means a lot. And I pray and ask God to bless them for doing what they do for me."
"It's easy for us to place people into silos," shares Anderson. "But if you take a step back, if that artist is having health problems and can't go to the doctor, or has an abscessed tooth and can't get to the dentist, or is unable to put food on the table, they're not going to be able to perform. If you don't look at the artist holistically, they're not going to be able to perform at the level needed for them to continue to bring that income into their home."
In 2018, Ester Mae Wilbourn of the Mississippi sacred soul trio, The Como Mamas, was in the midst of a divorce and looking for a place to call her own. She intended to move into an old family home she had inherited, which was in such disrepair that it was not liveable. She reached out to Music Maker, and we were able to work with her over the span of four years to install a new tin roof, a septic system, a kitchen and utility room, flooring, a bathroom, and new doors.  "I just thank God for them [Music Maker]," Ester expresses. "They have really helped me in a time of need, getting my home together. It was in really bad shape. It's a new home to me now. They have a heart of love and they're there for us, to help us in every way they can."
We recently visited Ester in July at her new home in Como, Mississippi. She shared her experience working with Music Maker as a partner artist with us: "It's a dream come true for me because I never thought I would've had the opportunity to travel and sing and do what I like doing. I love singing the gospel. I love singing to people. I love giving them the word that God gives me through song and inspire them, encourage them that whatever we're going through, we always got someone to help us get through."
As Anderson puts it, "Music Maker gave her back her power and made her feel that she could be independent. That is why I do what I do: to help people realize that they are the ones who have the power, to improve their quality of life." And if you've ever listened to the Como Mamas, you know just how powerful Ester is.