Announcing Freight Train Blues 2022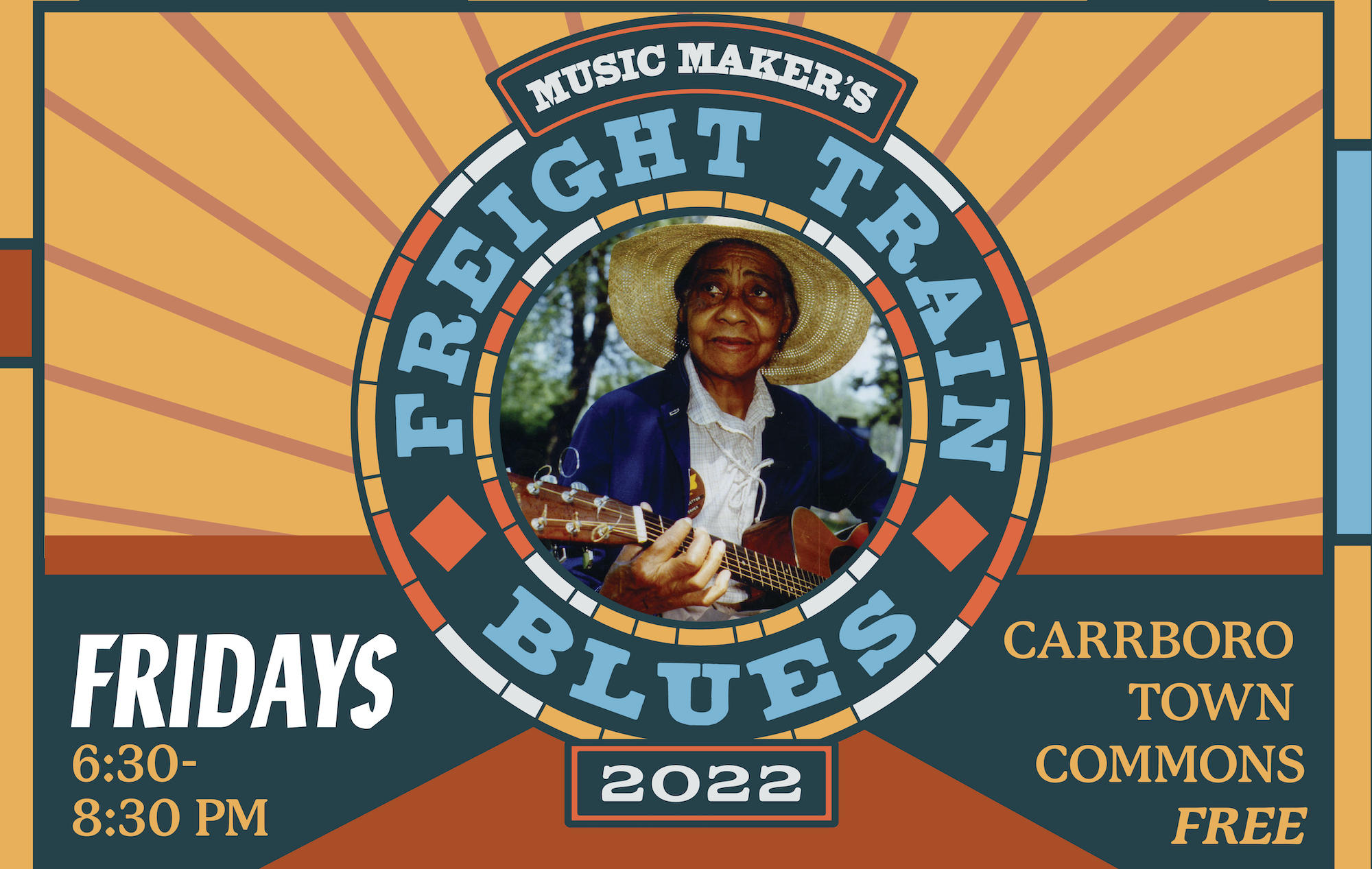 Each spring Music Maker and the Town of Carrboro present a series of roots music concerts at the Carrboro Town Commons on Friday evenings from mid-May

to mid-June.
Join us 6:30-8:30 pm on May 13th-June 10th, 2022 for five FREE Friday evening concerts featuring incredible roots musicians steeped in the diverse traditions of the Carolina Piedmont!
Freight Train Blues celebrates the life and legacy of Piedmont blues legend Elizabeth "Libba" Cotten, born in 1893 in Carrboro, NC. Some of her best known compositions, like the now-standard "Freight Train" and "Shake Sugaree," have been canonized into the repertoires of American popular culture, with the latter interpreted by Bob Dylan and Taj Mahal. Her enduring legacy was featured earlier this year in a piece from Good Morning America, who said she was "a master storyteller."
Freight Train Blues honors Elizabeth Cotten's contributions to American roots music by highlighting the cultural significance, diversity, and vitality of her North Carolina community and its connections to artists across the nation.
Sponsored by Town of Carrboro Cultural Resources, Recreation & Parks Dept., Carrboro Tourism and Development Authority, Music Maker Foundation, WUNC 91.5FM, and The Judy Weinstock Real Estate Team. 
Lineup
May 13 – Harvey Dalton Arnold and Hermon Hitson
May 20 – Sacred Soul of North Carolina Revue feat. The Glorifying Vines Sisters, James Barrett and the Golden Jubilees, Bishop Albert Harrison and the Gospel Tones, The Johnsonaires and a Tribute to the Weaver Gospel Singers
May 27 – The Branchettes and Hard Drive
June 3 – Larry Bellorín & Joe Troop and La Banda de los Guanajuatenses
June 10 – Music Maker Blues Revue feat. Gail Caesar, Tad Walters, and Lil' Jimmy Reed
About the Artists
Harvey Dalton Arnold
Harvey Dalton Arnold is a North Carolina bred southern gentleman who took to the musical road in his teens. While playing bass for a band in Florida, he received an offer to audition for the now legendary southern rock group The Outlaws on a Saturday night. By the following Saturday, he already had a stadium gig under his belt opening for Johnny Winter and Lynyrd Skynyrd. He toured extensively and participated on classic albums with The Outlaws from 1976 through 1980. Always having a love for the blues, Harvey's first solo release was a blues album. His brand new effort "Stories To Live Up To" on Music Maker Recordings is a collection of songs and stories that showcase his writing and influences.
Hermon Hitson
Hermon Hitson is unique in the truest sense of the word. No one else is like him. No other human has the wild mix of experiences that make up Hermon's life. Over a 50-year career, he's played with the likes of Jimi Hendrix, James Brown, Joe Tex, Bobby Womack, Wilson Pickett, Garnet Mimms, Major Lance, Jackie Wilson, the Drifters, the Shirelles, Hank Ballard & the Midnighters and many others. As a result, Hermon's music is a mind-bending mix of psychedelic rock, the blues, rhythm & blues and soul music.
Sacred Soul of North Carolina Revue feat. The Glorifying Vines Sisters, James Barrett and the Golden Jubilees, Bishop Albert Harrison and the Gospel Tones, The Johnsonaires and a Tribute to the Weaver Gospel Singers presented in partnership with the Marion Cheek Jackson Center.
Weaver Gospel Singers Tribute
Surviving members of the Weaver Gospel Singers — in song and with an oral history – will pay tribute to group leader Susie Weaver, who passed away in 1984. Mrs. Weaver's original song "Freedom Comes To Chapel Hill" was recorded live at First Baptist Church in Chapel Hill, North Carolina by JCP Records during the Civil Rights era. In addition to singing, Mrs. Weaver owned a funeral parlor and was active in the Civil Rights movement. The music will be accompanied by praise dancer Joshua Weaver, Mrs. Weaver's grandson. This set is presented in partnership with the Marian Cheek Jackson Center.
The Branchettes
Lena Mae Perry and her friend Ethel Elliott founded the Branchettes more than three decades ago — and it happened almost by accident. Both Lena Mae and Ethel were born and raised in Benson, North Carolina. Both attended the Long Branch Disciple Church. And one day the Long Branch Senior Choir was scheduled to perform at a church program in nearby Smithfield, but only Lena Mae, Ethel, and Mary Ellen Bennett showed up. They sang anyway and discovered the gift of their combined voices. "The people were just shouting and crying," Ethel Elliott once recalled in an interview, "even though there were just three of us." They decided to continue as a group and they called themselves the Branchettes — small branches of the Long Branch, their home church. The Brachettes' style draws from the African American traditions of congregational hymn singing. Ethel Elliott passed away in 2004, but Perry continued to perform with pianist Wilbur Tharpe until his passing in June 2021. The group's releases include "Singing in the Spirit," and they are featured on the Music Maker Foundation release "Sisters of the South," alongside artists like Beverly "Guitar" Watkins, Precious Bryant, and Etta Baker.
Hard Drive
Hard Drive is a hard-driving aural modern traditional old time authentic millennial bluegrass collective made up of Tatiana Hargreaves, Aaron Tacke, Sonya Badigian, and Nokosee Fields. From brother duets to raging fiddle tunes, Hard Drive brings a sense of deep intuition and silliness to the world that encompasses old-time, country, and bluegrass. The Bluegrass Situation describes the band as "a delightful subversion of our expectations of what traditional bluegrass is supposed to be." Hard Drive serves up a "high-octane bluegrass-old-time style, delivered with deep intuitive insight, manic exploratory zeal and seriously powerhouse instrumental (and vocal) chops but also, importantly, with an abundant and overwhelming sense of fun." [Folk Radio UK]. They float gently around a Bermuda-Triangle-type spacetime warp in central North Carolina, and they are constantly expanding at the approximate pace of the universe.
Larry Bellorín & Joe Troop
Larry Bellorín & Joe Troop were destined to make music together. Larry hails from Monagas, Venezuela and is a legend of Llanera music. Joe is from North Carolina and is a GRAMMY-nominated bluegrass and oldtime musician. Larry was forced into exile and is an asylum seeker in North Carolina. Joe, after a decade in South America, got stranded back in his stomping grounds in the pandemic. Larry works construction to make ends meet. Joe's acclaimed "latingrass" band Che Apalache was forced into hiatus, and he shifted into action working with asylum seeking migrants.
Currently based in the Triangle of North Carolina, both men are versatile multi-instrumentalists and singer-songwriters on a mission to show that music has no borders. As a duo they perform a fusion of Venezuelan and Appalachian folk music on harp, banjo, cuatro, fiddle, and whatever else they decide to throw in the van. The duo is currently developing their repertoire in advance of a recording project sponsored and facilitated by the celebrated Music Maker Foundation. The program they offer features a distinct blend of their musical inheritances and traditions, as well as storytelling about the ways that music and social movements coalesce. The program can be tailored to fit a barroom gathering, PAC stage, or university lecture hall.
La Banda de Los Guanajuatenses
La Banda de Los Guanajuatenses originates from Guanajuato, Mexico. This group was formed by 13 musicians from a town called San Pedro Tenango in 1999. Their music is heard on Hispanic radio stations throughout North Carolina. With their authentic style, they are a favorite among the many Mexican immigrants that call North Carolina home.
Gail Ceaser
The roots of Gail Ceasar's music run deep into the Virginia soil. After Music Maker met and began working with the great blues guitarist Boo Hanks in Virginia, we began doing more fieldwork in that state and soon met a blues player from Pittsylvania County named Pete Witcher. We returned several times to record Pete, and every time we visited, Pete made a point of taking us to see his niece Gail Ceasar. He was so proud of her guitar playing. She plays with incredible precision.
Tad Walters
Born in Canton, Ohio, and raised in Raleigh, North Carolina, Tad Walters began playing the guitar at age 12. As he was developing his guitar skills, Tad picked up the harmonica a couple years later at age 14. He was influenced by the likes of Blind Boy Fuller, Robert Lockwood, Charlie Patton, Robert Nighthawk, and John Jackson, among others, and began his professional music career with the Bob Margolin Band in 1996. In that four year period he traveled the world with the band and played with musicians like Pinetop Perkins, Hubert Sumlin, Billy Boy Arnold, Cary Bell, and others. In 2001, Tad joined the Big Bill Morganfield band and stayed until 2004. Tad is now teaching guitar and harmonica lessons and concentrating on Piedmont blues and old-time jazz with Dave Andrews.
Lil' Jimmy Reed
Lil' Jimmy Reed calls himself "the last of the original Louisiana bluesmen," playing a music that is a wild outcry against segregation, poverty, and hard, back-breaking work. Sadly, most of the great musicians who created this vibrant, influential music have passed on, leaving only their recordings to testify to their genius. But Reed's career stretches back to the time when rhythm and blues was just bursting onto the popular music scene, and he is still with us, playing better than ever. Reed was born in a shotgun shack in Hardwood, Louisiana, a small cotton and sawmill town on the Mississippi River.