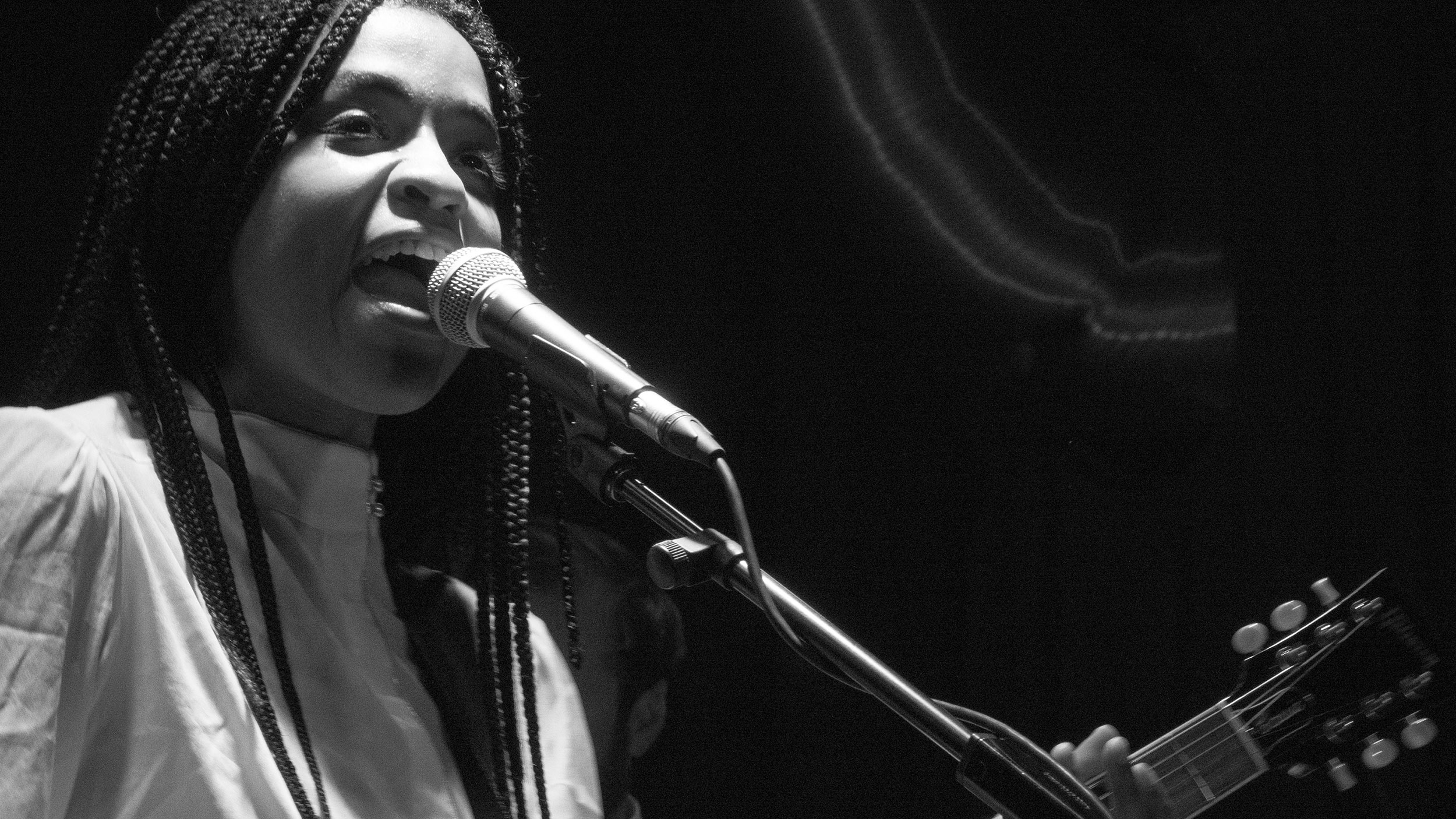 On her new album, Adia Victoria plants herself in the soil of South Carolina to begin a rebirth.
By Aisha Gallion
Almost a year ago, I applied to a job with Music Maker Foundation and my scary ass was simply not fit for the position despite my hopes. However, the founders, Tim and Denise Duffy, dug my writing, so they asked if I would interview the legendary Taj Mahal. Surely, I accepted this offer, but y'all, I ain't even know the slightest bit about the blues — or so I thought/think.
As a Black Southerner, I always felt connected to blues music and other U.S. roots musics. Nonetheless, being "a student" or "connoisseur" of the blues is not a title I would give myself. I truly felt hopeless in my pursuit of studiousness (fuck it, I blame higher ed), until I fully accepted that this music and way of living, which some would consider to be a "relic" of the past, was more present than ever. Not only that, but Southern Black life and the Southern spaces Black folks inhabited "'til dis DAY (!)" are intimately connected to the blues and other U.S. roots musics that are closely influenced by the blues (e.g. Americana, bluegrass, country, country blues, folk). Maybe not as purists would sonically imagine, but the link remains. My elder, Mr. Mahal, made me truly sit in that fact. Maybe I could've listened to art historian Richard J. Powell when he said if one knows about "Afro-American culture, geography, verbal codes … then one knows about the blues." There's always more to it than affirmation, but you gotta start somewhere.
Following my listening to Mr. Mahal's music, I found myself listening to the likes of modern musicians such as Brittany Howard, Amythyst Kiah, Adia Victoria, Van Hunt, Valerie June, Christone "Kingfish" Ingram, The War and Treaty, Rhiannon Giddens, and a host of others. All of these artists create music that has a direct basis in the blues, no matter what the recording industry believes they should be marketed or how far they ingeniously stretch the sound of the blues.
"U.S. roots musics of today are a great place to begin discussing Black folks' present relationship to and with the South,

the land."
Aisha Galleon
Even more, their music makes me feel deeper.I don't know how else to put it, honestly. They tap into emotions, a certain thing, that feel very ancient inside of me. I'd say it is quality of grounding that they bring to the spirit (not insinuating that they don't ever provide inspiration for flight). With that, I never considered until recently how artists utilize nature to ground one in natural environments, or in the history and stories of Black folks in the Southern U.S.
To be clear, I want to envision "grounding" here from an emotional standpoint, but additionally in relation to nature by way of Carolyn Finney's travel to the past, and reflections on the present in Black Faces, White Spaces. In that book, Finney wants her readers to consider U.S. Black folks' relationship to the environment as nonlinear and ever-changing due to our history of constantly being denied (natural) spaces. Accordingly, Finney states that there have been "key moments in U.S. history that in many ways define human/environment interaction in the U.S…" She points to the Indian Removal Act of 1830, the Homestead Act of 1862, the Emancipation Proclamation of 1863, Black Codes, rescission of the Las Trampas Land Grant, the Civil Rights Act and the Wilderness Act of 1964, and various others.9
All of these acts limited and often completely stopped the mobility of Black folks (as well as other racialized groups) through various natural landscapes. Any conversations around why Black people haven't gone to many national parks, for example, must commence considering our complex history with nature in the U.S. and the acts mentioned above. Grounding our discussions in such history as it relates to the present and the future is pertinent.
U.S. roots musics of today are a great place to begin discussing Black folks' present relationship to and with the South, the land. This, of course, is not the only music that can do this but it is a solid foundation to start with.
Adia Victoria's gothic blues tune "Magnolia Blues" makes me recall the sweet scent of magnolia flowers as I walked through Charleston as a college student in South Carolina. There's nothing like the smell of blooming flowers on magnolia trees.
However, this song is about something a bit different than the smell of magnolias. It's a story about a sojourner who left the South (Carolina), and returned back home to ground themselves in the natural environment and claim the land they were born on. They were up north and "ain't have shit to show for it," so they came back down home. Maybe I'm out of my mind, but as much as the "you" this traveler followed is a lover, it also reminds me of the many Black people who at various times migrated from the south to the north and elsewhere following the promise of opportunity, but had to move back home later due to financial issues, wanting to be closer to family, missing the kinship of the South, etc.
I'm going back South
Down to Carolina
I'm gonna plant myself
Under a magnolia
I'm gonna let that dirt
Do its work
I'm gonna plant myself
Under a magnolia, a magnolia
Magnolia, a magnolia, a magnolia
There's a haunting nature to the chorus as it comes around the second time. Everything after, the strings moan and shakers all are beyond full-bodied, bringing listeners to a climax which makes me think the planting has led to growth. Throughout the video we are presented with fried fish (somebody bring out the mustard please), Adia performing the song in a hole-in-the-wall, and her climbing a magnolia tree and stomping to the ground a KKK hood. That latter scene really brings up grounding for me. Those magnolia trees don't belong to the white perpetrators of violence and death. The history of lynching from magnolia trees remains, but it isn't the end of this narrative nor the full narrative.
The video's imagery also centers the grounding of Adia and other Black femme-presenting folks adorned in white. Like Brittany Howard said in the Oxford American: "There is something in that space (the South) that gets into you and everything in the natural world here. It's a place where scars can heal and progress can be made.
Or, as she sings in her song "Wild Turkey, "There surely is something in that space," and "something in the air […];" that humid South Carolina air.
Amythyst Kiah returns to the pain of her mother committing suicide in Tennessee. The driving melodic riff of the lead guitar really encircles listeners into the sorrow. With each "never coming back," the echo sharply rings, reminding us of the permanence of life lost. This, too, is a song of grounding. There's a starkness to how Amythyst Kiah captures her own emotional state as a young Black person holding so much on her heart.
Tried so hard to be an automaton
Body of steel and wire circuits for my backbone
'Cause she's never coming back
No, she's never coming back
On the writing of "Wild Turkey," Kiah said, "For a long time, I didn't understand that when people commit suicide, it's because they believe the world will be better off without them. I thought my mom did it because she didn't really love or care about me and my dad, and I interpreted that as being abandoned. Writing this song was a way to make amends with what happened and to recognize that numbing myself wouldn't work for me in the long run."
Kiah ends the recording with a question: "When will I ever feel right again?" An inquiry that may never land on solid answers, but I am reminded through Amythyst's interviews (and music) that new shared connections and love remain more than possible even while carrying that pain.
"Who Will Love Me in Winter" by Van Hunt, an Ohio native by way of Georgia holds me captive. Hunt layered his voice 10 times over and did the same with his guitar. Though Van Hunt is an artist who leans towards funk (and neo-soul. aka funky blues) in his music (shout-out to Sly), this track also has an explicit connection to the blues. Tony Bolden in Groove Theory: The Blues Foundation of Funk gets down and dirty with how funk artists embodied and extended blues aesthetics. One of the many points Bolden makes is about funk's contrariety which existed first in the blues [Contrariety being that which brings contradiction, tension, difference between things].
We hear and imagine in Hunt's song wonder and despair regarding love and his expectations of it as the frigidity of winter approaches. Wonder and despair are typically not thought to exist in the same space/place. Hunt's "spaceship" was a place of safety and provided him with a jaded view of his relationship, but when he crashed he was brought back to earth, to the natural environment, with a wish on his heart. Essentially, Hunt used nature in his iteration of the blues to draw from a well of memories and hopes — as well as to signify the coldness to come.
But my spaceship crashed against the wall
My neighbour's grass ain't so green after all
I wouldn't have a second thought about the fall
But I'm wondering who will love me in winter
Who knows if he found love before winter (he seems to have found it with Halle Berry lol). What I do know is that Van Hunt stole the warmth of fire to make a wish and command. Adia Victoria imbued herself in the soil of the Carolinas to rebirth herself. And, Amythyst Kiah began to find room for grounding and vulnerability in the face of despair in Tennessee.
These brief examples don't encompass the full range of sonic possibilities that artists today tap into within the realm of the blues or other U.S. roots musics. But I do think they bring grounding to the fore as a key element in these musics. To me, grounding includes reaching back to a complex personal or communal history while highlighting the natural environments role or place in the storytelling. It is the action involved with the process of healing, confrontation, and a promise of discovery, of renewal/rejuvenation in nature. Blacks folks creating this music call upon the land and its seasons for change, for love, for retribution, for celebration, for relief and grief.
With all this, it is my belief that just as Black people were told lies about our relationship to nature, so were we fed a fallacy about how we can engage with and be grounded by music and nature. I feel this is especially true considering the bleaching of various U.S. roots musics.
To end, this involuted relationship between Black people and the environment can be explored through our music. It is a topic that must be returned to and understood more deeply. Or hell, maybe never fully understanding, but I believe it is worth the effort. I'd like to think of it as a way of putting our ears to this dirty, muddy earth. What do you hear when you ground yourself in the sounds?