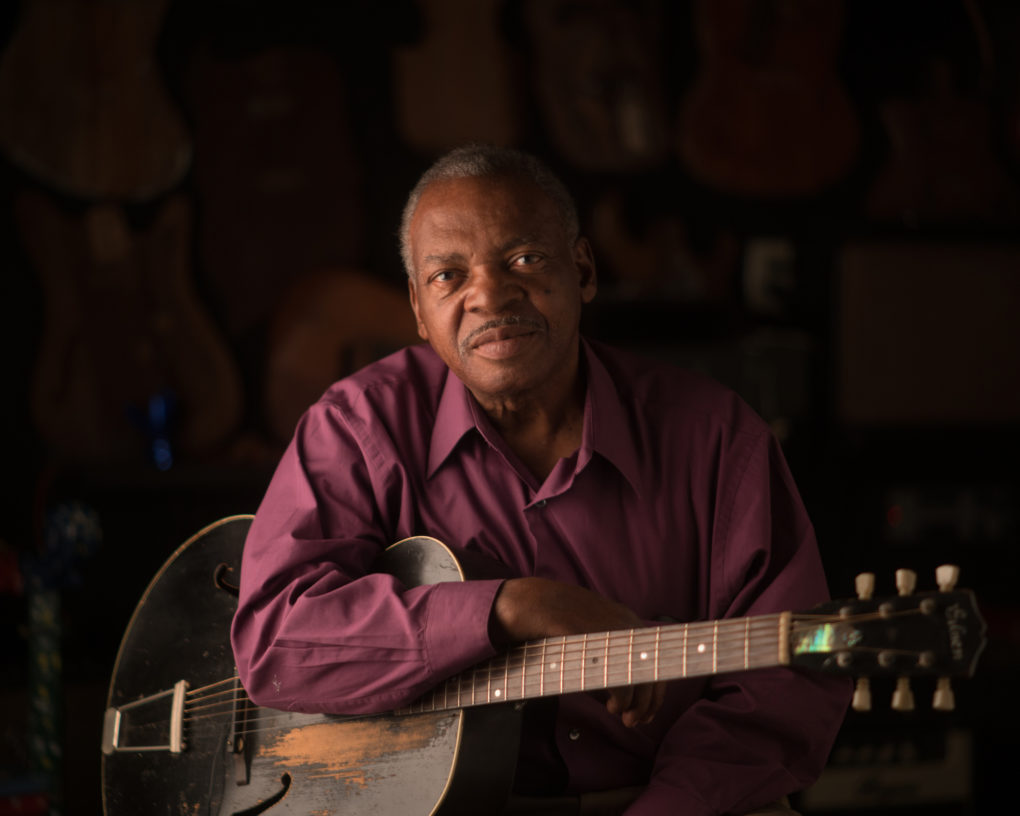 Willie Farmer, photo by Tim Duffy.
With Gratitude
Dear Friends,
Music Maker continues to be a singular organization with a unique approach to supporting American musical traditions by directly supporting the musicians that make it.
We could not do this without you.
On behalf of Music Maker, and our Partner Artists, thank you! We are humbled and inspired by the determined, openhearted, ongoing support shown for traditional music and the musicians who create it.
With hearts full of gratitude,
Tim and Denise Duffy
Music Maker Foundation
overview
Music Maker remained committed to the core senior roots musicians we serve in 2022. The recovery of performance opportunities has not been as robust as hoped for and the recovery landscape remained uneven. While 85% of the artists we serve had regular local gigs pre-pandemic, only 33% had regular events in 2022.
We transitioned our support granting program from pandemic mode of twice monthly grant payments to single monthly payments, but have increased support due to ongoing need exacerbated by a shaky recovery in the performance arena and the financial stress of high inflation.
With greater vaccination and less risk of severe illness, Music Maker was able to ramp up our work with new artist development and recording in North Carolina, Memphis, Tennessee, and in Alabama.
Music Maker had an amazingly productive year in terms of musical releases, publications and exhibits. Our most important series and festivals returned to live performances for the public, and we initiated our first television program broadcast, Sacred Soul of North Carolina on PBS North Carolina.
878 Grants
monthly sustenance
423 Grants, 40 Artists, $97,500
Emergency & other needs
301 Grants, 100 Artists, $105,775
COVID & LIVING STIPEND
154 Grants, 30 Artists, $27,750
113 individual artists
in 12 states
Alabama, Georgia, Illinois, Louisiana, Mississippi, New York, North Carolina, South Carolina, South Dakota, Texas, Virginia and Wisconsin
$229K
distributed
10% more than 2021
Services
ASSISTED ARTISTS
Finding medical providers

Finding and applying for assistance with other aid organizations

Facilitating applications for disability insurance for artists in crisis
purchased & contracted
Major home repairs, including a new roof for Sugar Harp; completion of Ester Wilburn's home renovation

Car repairs for artists

Purchased used vehicles for artists without transportation

Artist studio repairs
Enabled Artistry
Purchasing instruments and enabling instrument repairs

Providing art supplies and materials to musicians who are also visual artists

Producing recordings

Granting artists CDs to sell at gigs

Resuming interstate touring operations
sustenance
Each year, we survey our artists to understand their health, well-being, and financial situation. Despite an uneven recovery and ongoing financial strains, for the first time since the pandemic, artist annual income has grown slightly, with mean income of $13,464, an 18% increase over 2021.
INFLATION & FOOD INSECURITY
Rising inflation has cut into these gains and made it more difficult to meet monthly expenses and keep the refrigerator full. Food insecurity is on the rise, with more than 45% of artists requiring assistance to get the food they need each month. Over 33% are still unable to meet monthly obligations of utilities, car insurance and other bills.
UNEVEN RECOVERY
In 2019, 85% of our partner artists were earning regular income from performances, however despite the declared end of the pandemic, only 33% were performing on a regular basis in 2022. This absence of performance income means that many of our Partner Artists on disability rely on Music Maker to address what are truly life-changing needs such as major home repairs and assisting with the purchase of used vehicles to provide transportation.
HOME REPAIR PROGRESS
For example, after a three-year effort, the home renovation of Ester Mae WiIbourn of the Como Mamas is complete! Renovations include a new roof, updated kitchen and bathroom, septic system, flooring and doors.
This past year we also completed major home repairs for Lena Mae Perry of the Branchettes, Sugar Harp, and Curtis and Maddie Harper of the Glorifying Vines Sisters.
Over 90% of our partner artists reported that the grants supplied by Music Maker's Sustenance Program are "very important" to their ability to meet essential expenses. Partner artists also depend on the support and services of our staff, with 95% of artists rating their relationships with Music Maker staff as being "very important."
"Music Maker is priceless. They saved the roof on

my house."
Sugar Harp
Performance & Education
We were pleased to see that many of our Partner Artists safely returned to larger live performance venues in 2022.
Music Maker also published its first music instruction book and companion CD. Deep In the South: A Music Maker Songbook has tablature and song notes to guide guitarists, as well as stories about the artists whose songs are contained, and photographs that set the scene. This compilation collects 27 songs from our partner artists including Etta Baker, Taj Mahal, Guitar Gabriel, John Dee Holeman, and many more presenters of precious pieces of our nation's musical culture.
exhibits
Hanging Tree Guitars was installed at the Portsmouth Arts and Cultural Center in Portsmouth, VA, and the North Dakota Museum of Art in Grand Forks, ND.
Our Living Past traveled to Piedmont Arts in Martinsville, VA.
Live performances
In April, Baton Rouge Blues Festival welcomed Alabama Slim, Leonard "Lowdown" Brown, Ardie Dean, Aretta Woodruff and Albert White.
In May, Lena Mae Perry of the Branchettes participated in a week-long Civil Rights Program with Jazz at Lincoln Center in New York City, NY.
The 8th Annual Freight Train Blues (live again!) in Carrboro, NC, featured Joe Troop and Larry Bellorin, Hermon Hitson, Sacred Soul of NC Revue, Hard Drive, The Branchettes, La Banda de los Guanajuatenses and Harvey Dalton Arnold.
The Telluride Blues & Brews Festival showcased Aretta Woodruff, Pat Wilder, Leonard "Lowdown" Brown, Ardie Dean, Fred Thomas, Albert White, Shelton Powe and the Legendary Singing Stars.
In November, the Dedicated Men of Zion performed at the meeting of the Executive Board of the Ford Foundation in Montgomery, AL.
"Music Maker is very important because it lets people know who I am and what I do. We get along

like family."
Willie Farmer
recordings
It was a big year for recordings.
Big Belly Mama by Albert Smith
In Paris by Beverly Watkins
Whatever You Need by Johnny Ray Daniels*
The Devil Don't Like It by the Dedicated Men of Zion*
Sugar is My Name by Sugar Harp
Let the Gods Sing by Hermon Hitson*
Shelton Powe, self-titled
Guitar Woman Blues by Gail Ceasar
*With label partners Big Legal Mess and Bible & Tire Recording Co.
We recorded several other artists for upcoming releases including Jeffrey Scott, Leonard "Lowdown" Brown, and Clarence Davis.
Broadcast
Our film, Sacred Soul of North Carolina, was broadcast on PBS NC.
Music Maker gave us the opportunity to go out there and go places we had never been before and took care of

my sisters.
Alice Vines
the view ahead
We are so inspired by the many new partner artists we are working with, from the tremendous deep well of gospel talent in eastern North Carolina to the exciting blues scene of Birmingham to the incredible emerging crop of senior acoustic Piedmont Blues artists.
All these artists are in great need of video, photography and recording production to share their talents with their communities and the world and make a living. In 2023, we embark on building a new production facility in Fountain, NC, to serve these partner artists. Of course, all of our documentation will be preserved at the Southern Folklife Collection at the University of North Carolina to be available to future generations.
We are also expanding our support services to meet the essential life needs of artists in crisis, focusing on our unique methodology of combining artist professional development and social support. We thank you for your ongoing involvement as our community continues to grow.
Thank you.