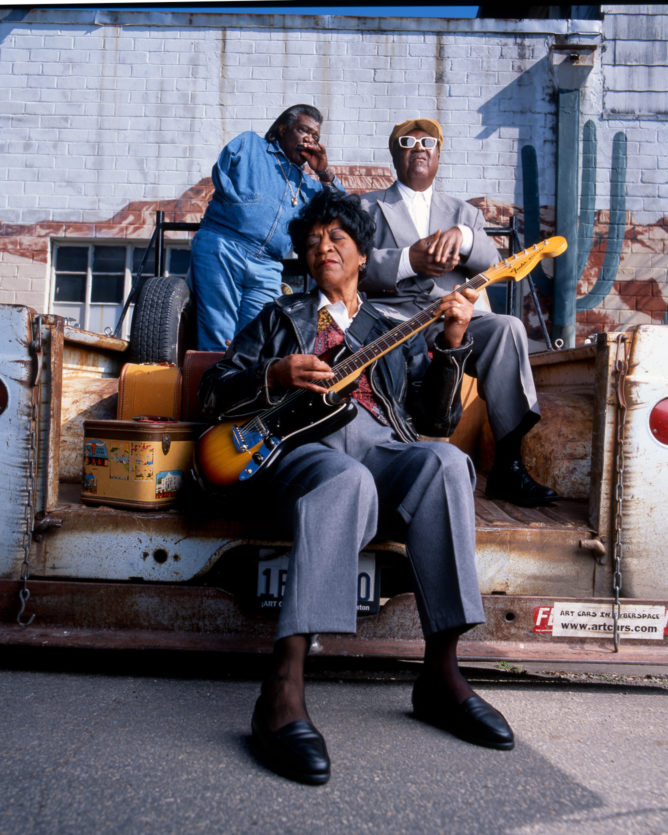 Discover the Music Maker Method
Blues
Take a look at the two obsessions that make the Music Maker Foundation unique in the world of folklore.
Photo by Pam Francis.
What makes the Music Maker Foundation tick? Two obsessions. The first is our insatiable desire to search out the unheard musicians who keep American musical traditions alive. The second is our insatiable desire for equity, our need to make sure the work of our partner musicians live on for future generations and that poverty does not crush them.
This makes us unique among all the nonprofits and academic institutions engaged in the preservation and archiving of America's native musics. 
"Very few organizations in the universities, in government or otherwise are totally dedicated to the preservation of the kind of music that Music Maker focuses on, and there is no engagement with the musicians themselves," says Bruce Jackson, the pioneering American folklorist who is now a SUNY Distinguished Professor and the James Agee Professor of American Culture at the University at Buffalo. "Music Maker not only presents the music, but creates a body of knowledge and a human community of musicians that is invaluable. No one else does anything like it."
Our method of creating that body of knowledge and community of musicians arises from our two obsessions. From our beginnings, Music Maker founders Tim and Denise Duffy visited small towns and big cities, following the music up and down and across the country. Music Maker built its family of partner musicians in person and on the road, and today, it spans from Eastern North Carolina to South Dakota.
"I had given up, was ready to sit down and fade away. Meeting up with Music Maker has given me hope, a new life, gigs and a musical

career again."
Ironing Board Sam
Our first big discovery happened in 1991, three years before the Music Maker Foundation came into being, when our co-founder and executive director, Tim Duffy, finally completed his search for an amazing guitarist, Guitar Gabriel, who played in obscurity in Winston-Salem, North Carolina.
"So Tim meets Guitar Gabriel, and then Gabe introduces him to this whole community of artists," our co-founder and managing director, Denise Duffy, remembers. "And it's like Tim's opened this treasure box in East Winston — this drink-house scene with all these incredible artists. And everyone is like, 'Can you get us a gig? We want to play, but we don't know where to play or how to find the gigs.'"
The experience taught Tim and Denise a lesson — that if they wanted to provide genuine help to these artists, they could not operate in the way folklorists in academia do.
"Folklorists in academia, doing scholarship work, are recording stuff that may go into an archive," Jackson says, "and it stops there."
"We are all like a family, the artists that have met each other, and even the ones that haven't. Music Maker has brought us together."
Pat "Mother

Blues" Cohen
Denise describes what they learned this way: "The levels of poverty Tim was seeing both among Appalachian musicians and among the blues musicians in the Piedmont cities was so stark. He just was like, 'How can I make my living off these people as a researcher when they don't get lunch?' It felt immoral."
Tim adds: "There's nothing unique about poverty in the world, but these guys happen to create some of the greatest musical culture in the world."
That's how the Music Maker method became the unique one it is today. The Foundation dedicated itself not only to finding, recording and archiving America's greatest unheard music, but also building long-term relationships with the artists who create it.
When artists join our community, they are no longer isolated from other musicians. Their artistic excellence increases because they get recording opportunities and the chance to play prestigious stages and find new audiences. The community experience is transformative: It elevates these art forms and keeps our musical traditions thriving.
"Music Makers! I know they've done a lot for me and they have done a lot for other musicians I know. I really appreciate the way they help people that would otherwise have

no help."
Guitar Lightnin' Lee
"We can't alleviate everyone's poverty," Tim says. "We can't meet all their financial needs."
"But what we can do," Denise adds, "is get someone a quality instrument, to get someone to a quality stage, to document, to get photography, to document their oral history, to document their music, introduce them to other musicians so they can work on their repertoire. We can help with that. And if someone is having a medical issue, we can call in the social worker, and she can try to make sure they're getting the medical care they need."
We find these great artists, begin long-running, dedicated relationships with them, and help them in any way we can. And perhaps most importantly, we help them keep their art alive.
"A lot of these artists have kept these archaic traditions, passed on from their family, alive, because they love that," Tim says. "And if they see that Music Maker's mission is to help that be passed on into the world, that it will have a further life, that it will be immortal — well, that's what you can't pay for."