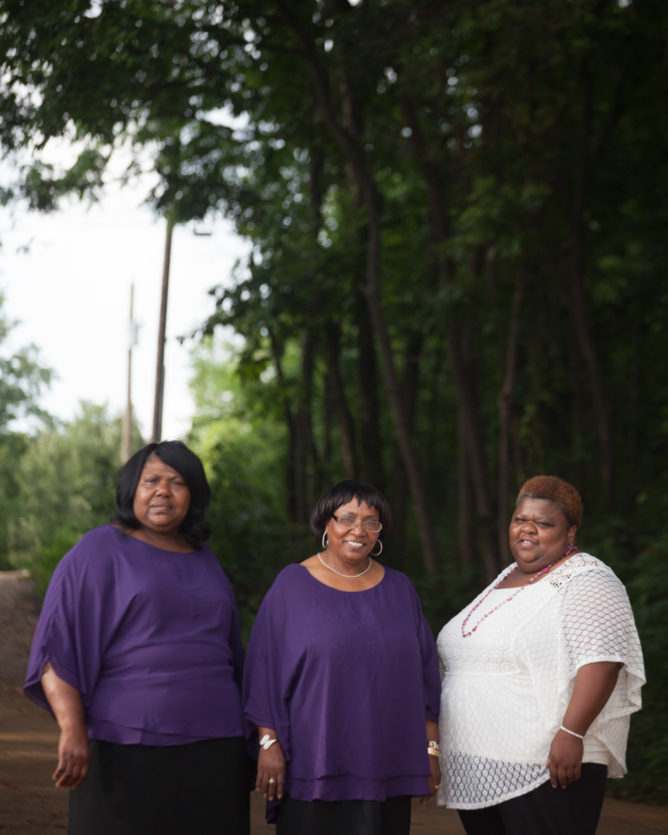 The Como Mamas
Sacred
No matter where you are, witnessing Ester Mae Wilbourn, Angelia Taylor and Della Daniels of the Como Mamas singing old hymns will transport you straight to church.
The Perfectly Imperfect Harmonies of the Como Mamas
Witnessing the Como Mamas, the amazing gospel group from Como, Mississippi, on stage will transport you. No matter if you see them at a festival or a concert hall, where you wind up is in church.
Ester Mae Wilbourn, Angelia Taylor and Della Daniels make up the group that sings old hymns of the Black Baptist church. When the Como Mamas' first album, "Get an Understanding," came out on the Daptone label in 2013, Fredara Hadley, an African American musicology professor at the Juilliard School of Music, raved about it in a review for Black Grooves. "It is the music that my grandmother and her prayer band sang at the side of countless sickbeds," Hadley wrote. "It is the sound the older ladies at St. James Missionary Baptist Church in Riviera Beach, Florida, sang every time the doors of the church opened. I know this music."
"Working with Music Maker has shown me the love that people have for artists. Even all across the world when audiences didn't speak the language, I could feel the love of the music. I truly feel in my heart that Music Maker cares for the artists, and you all show us so much love

and caring."
Ester Mae Wilbourn
The Como Mamas exemplify the unity that has been so central to the development of African American history. Their three voices do not merge indistinguishably into one, but rather create a collective sound all the more moving because each individual voice remains clear. In her review, Fredara Hadley also celebrated the "imperfectly harmonic" relationship between Ester, Angelia, and Della's voices.
The Como Mamas' are signed to Daptone Records and performed at the Americana Music Festival in 2014. Despite these successes, the music industry remains a difficult place to make a living. And so, in 2020, when Ester Mae ran into some hard times, Music Maker had to put some work behind our faith in the Como Mamas. After a divorce, Ester moved into a home her family had left to her, but bringing the home up to snuff was another matter entirely. We first got a new tin roof installed on the house, and then went to work on building a brand new kitchen and repairing Ester's septic system. Giving Ester a hand in these tough times was our way of returning the energy that the Como Mamas emit on stage. It is the energy that moves people, the energy that "gets you through."
The Como Mamas are Ester Mae Wilbourn, Angelia Taylor and Della Daniels, from Como, Mississippi.
Top photo by Aaron Greenhood.