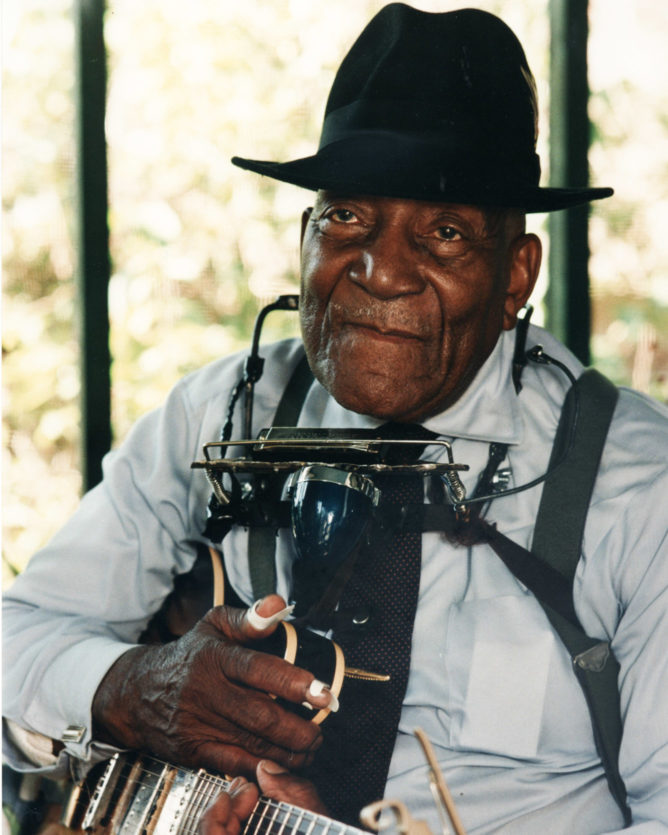 Mr. Frank Edwards
Blues
From his youth until the night he died at age 93, Mr. Frank Edwards was out playing or listening to the blues. He was the much revered and beloved elder of the blues scene in Atlanta, Georgia.
A Lifetime Bluesman and the Elder of Atlanta's Blues Scene
Until he died in 2002 — at the age of 93 — Frank Edwards was the much-revered elder of the Atlanta blues scene. Although Georgia was always his home, he traveled to Chicago, where he did his first recordings for the legendary Okeh label in 1940.
Music Maker traveled to Atlanta to meet Mr. Frank in 1995. We shot a photo of him that became part of our book "Music Makers: Portraits and Songs from the Roots of America." Mr. Frank was in his mid-80s by then, but he would still head out almost every night to play or listen to the blues at Blind Willie's, the Northside Tavern, or some other blues clubs in Atlanta. Music Maker helped Frank get on the road again after we met him.
"If it ain't been in a pawnshop, it can't play

the blues."
Mr. Frank Edwards
One particularly delicious memory of our travels with Mr. Frank comes from a trip to play the Chicago Blues Festival. In his early days of recording in Chicago, Frank had picked up some nicknames in the blues community—Mr. Frank, Mr. Cleanhead, and Black Frank. At the festival, we ran into the legendary blues pianist Pinetop Perkins, a longtime member of Muddy Waters's band. Pinetop instantly recognized Frank, saying, "Oh, there's ol' Black Frank." It was a testament to the long career of an imminent bluesman.
After Mr. Frank turned 90, he began working with us on a solo album called "Chicken Raid." Just after his 93rd birthday, he traveled back to our studio in Hillsborough, North Carolina, to wrap up the record. After we'd finished recording, Mr. Frank asked us what was going on in Hillsborough that Tuesday night, and we replied, "Dinner and bed." So Mr. Frank decided he'd rather get back to Atlanta to hit the blues clubs.
Mr. Frank Edwards was born on March 20, 1909. He died March 22, 2002.
Top photo by Axel Küstner.